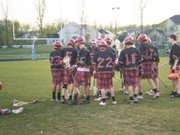 The McLean High boys' lacrosse team capped the regular season with a recent 16-10 triumph over Stone Bridge. The Liberty District contest took place on the evening of April 24 in Ashburn.
The district tournament was set to begin this week. The district's top three teams this spring were Woodson, Madison and Langley, while McLean, South Lakes and Thomas Jefferson were also highly competitive as well.
McLean's win over Stone Bridge improved its overall record to 6-5. It was the third district win of the season to four defeats for the Highlanders. The team's district wins over the regular season came over the Bulldogs, Jefferson and Marshall.
McLean's top scorers this season have been junior attack Brad Mason (22 goals, 7 assists), senior attack Jack Blumenthal (12 goals, four assists), and senior midfielders Alex Russomanno (13 goals, 12 assists), Matt Wellens (14 goals, eight assists) and Sean Flint (11 goals, nine assists).
Flint, a team tri-captain along with seniors Aaron Cornwell (defense) and midfielder Ryan Jarriel (10 goals, six assists), has won over 70 percent of his face-offs this season.
Mason, who leads the team in goals, has had an all-around outstanding season.
"He's really stepped up in his role as kind of being the leader of the offense," said McLean Coach Chris Yi, of the 11th grader.
One of the team's top defensive players this season has been junior Grayson Dahl (2 goals, nine assists). The long pole man has outstanding stick skills and the ability to quickly get up and down the field and contribute wherever he's at.
"He's got lots of experience at the long stick midfield position," said Yi, of Dahl. "He's got some of the best multiple stick skills of anybody in the [Northern] Region and his speed is overwhelming. He can run 80 yards without getting touched."
<b>THIS PAST</b> Saturday, McLean was tabbed to play its annual Gray versus Red scrimmage game in which varsity and JV members of the program compete in a highly contested, but fun practice game amongst themselves. Each squad has varsity and JV members on it. One of the purposes of the contest is to stay sharp during the downtime between the conclusion of the regular season and the district playoffs.
"It's a way for us to gear up for the district playoffs," said McLean head coach Chris Yi, who is in his first season at the helm of the Highlanders.
Yi has overseen a program that has seen good overall improvement this spring. A year ago, McLean finished with a 5-11 overall record in the 2007 season. This season, the Highlanders are currently over .500 at 6-5 heading into the postseason.
McLean has put together a winning season despite playing a lopsided schedule in which the Highlanders have played just three home games and eight on the road. The Highlanders, in fact, are 3-0 at home this season, all of those victories coming against district foes.
"I would say we've had a very tough schedule," said Yi. "But we've done well."
One of the team's toughest losses came to district opponent South Lakes, a one-goal overtime setback in Reston.
Yi has been impressed with the way his squad has come together this season and the way his club handled the numerous games away from the home campus. The coach said two pre-season road games against Washington-Lee and George Mason helped the Highlanders prepare for life on the road. (McLean defeated W-L, 8-3, and tied Mason, 7-7).
The Highlanders are a focused bunch and give there all no matter who their opponent is. Pre-game routines include a team dinner together and a walk-through practice.
McLean's non-district wins this season have come over Yorktown, 10-7, and Mount Vernon, 12-11.