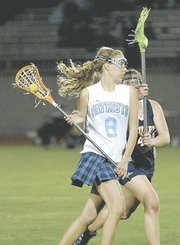 After every one of its games, someone on the Yorktown girls' lacrosse team is given the coveted spirit stick, awarded to the best team player of that particular contest. Sometimes that means some slightly surprised Patriots.
"Some girls, when they have good games, they shine and they have no idea," senior Meghan Reed said. "Then they get caught off guard when they get the spirit stick."
Last Thursday's 10-0 win over Stuart was more of the same as Yorktown clinched its third-consecutive National District regular-season title — not that anyone could tell from the somewhat subdued sideline.
"I guess we did," laughed Reed when told of the accomplishment. It seems these Patriots have been surprising themselves all season long, losing just two games while running away with the district. The Patriots easily defeated second-place Falls Church by a whopping eight goals last Tuesday.
<b>LEADING THE CHARGE</b> has been junior Hope Barrazotto and senior Katie Hinsdale, who have combined for 52 goals in nine games. The pair also starred for the school's field hockey team in the fall, where Barrazotta picked up district player of the year honors.
The duo is just two of several field hockey players that also play for the lacrosse team, a fact that has made chemistry on a squad with plenty of newcomers much easier.
"Everyone kind of has a sense for how each other plays," said Hinsdale.
But that hasn't meant the season has been all smooth sailing. After opening the year with a confidence-building 14-13 overtime win over McLean to start the year, Yorktown stumbled in two straight games, culminating in a 23-7 pounding at the hands of Madison.
Since then, though, the Patriots have reeled off seven-consecutive victories, including heart-stopping, one-goal wins over Mount Vernon and Potomac Falls right before spring break.
It didn't hurt that last Tuesday against Falls Church, a game coach Robin Grunberger was concerned about thanks to the week off from school, the team "played the best game of their lives. We may have spring break on a regular basis," joked the coach.
<b>IT WAS JUST</b> another surprising twist in a season that is beginning to shape up as something special. One thing Grunberger appreciates is that although the Patriots have standout players, "everyone on the roster is a solid player and capable of stepping up."
Against an overmatched Stuart squad last week, it was junior midfielder Molly Adair coming to the forefront. She netted three goals and had an assist. Junior Colleen Cooper also added a goal and an assist. Barrazotto finished with two assists as well.
The Patriots have four games left in the regular season, including two tough non-district contests against Loudoun Valley and South County, opponents that should prepare Yorktown for what is to come in the regional tournament next month.
And although they've dominated National District competition thus far, players say the goal is to make it out of the first round of that regional tournament, something they haven't done in two years.
"We're beating teams and doing things that we didn't think we could," said Hinsdale. "I also think we've been getting better every game."