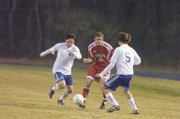 Going into this week, the South Lakes High boys' soccer team had the opportunity to accomplish something it has not done in 14 years – earn the right to host a first round game at next week's Liberty District tournament.
The Seahawks (5-4-1 overall record, 3-3 district mark) were scheduled to close out their regular season district schedule with a game against Marshall earlier this week on Tuesday (after this edition's deadline). The game was to determine the No. 4 and 5 seedings for districts. The winner of that contest will be the district tournament's No. 4 seed next week, and therefore host the No. 5 team in a first round game.
Either way, Marshall and South Lakes will be playing each other in the first round of the playoffs. The regular season game between the two opponents earlier this week simply was to determine where the postseason game will be played.
Winners of first round district tournament games, along with advancing to the semifinals, automatically qualify for the 16-team Northern Region playoff field in two weeks.
South Lakes, as a result of the solid season it has had, has a chance to accomplish quite a number of things it has not done in a long period of time. Those things include hosting a district playoff game, finishing the season with a winning record and making regionals.
"To be above .500 is such a difficult thing," said South Lakes coach Corrie Adams, of a Seahawks' program that has not accomplished such a feat in many years. "Usually at this time of the season, we're looking to get our second or third win."
<b>IN ITS MOST</b> recent game last week, South Lakes lost a non-district contest against T.C. Williams of Alexandria. The Titans, under long time coach Martin Nickley, are annually one of the better teams in the region. And they are always known for playing the game fair and hard, much like South Lakes under Adams.
"It was probably one of our more challenging games this season," said Adams, who said a few Seahawk players sat the contest out due to injury problems. "They were a really fast team. [coach Nickley] is a great coach and has done a lot for that program. It was one of the best sportsmanship games we've played.
"We were missing some players," said Adams, of the game with T.C. "[Still] the play was what it needed to be. They did the best they could."
South Lakes goals in the game against the Titans came from junior forward Boris Goli, his first-ever score as a Seahawk varsity player, and Alex Stom, who scored on a penalty kick.
Another challenging non-district game South Lakes played this season came earlier in the spring against Mount Vernon, one of the better teams in the National District. The Majors won that game, 3-2. The Seahawks trailed Mount Vernon 3-0 before coming back to make the game close.
Earlier last week, South Lakes lost to region power Stone Bridge, 4-1, in a district affair. Adams said Bulldog siblings Ronnie and Abdul Shaban are two of the finer players around. Ronnie is a senior defender who is sometimes moved up to forward to provide an offensive spark for coach Randy May's team. Abdul, meanwhile, is a sophomore defender.
"They have two kids – Ronnie and his brother – where you say to yourself, `We've got to find a way to shut them down.' They are skilled and fast. Stone Bridge is phenomenal."
South Lakes has been severely hurt by injuries this season. Nevertheless, the Seahawks have put together one of their better years in memory. They have wins thus far over non-district opponents Washington-Lee (Arlington) and Lee (Springfield), as well as district rivals McLean, Madison and Woodson.
It's a vast improvement from last year when South Lakes' only district win was against Marshall.
Adams said her squad is excited about the prospects of competing in the upcoming postseason at districts and, hopefully, regionals.
"It's hard to keep them focused on this week," said the coach, who wants to see her team finish off the regular season strong this week. "Next week is what we have been preparing for. The goal from the beginning of the season has been to place in the top four [in the district]."
Adams said her team looks forward to playing Marshall in the playoffs next week. The two teams have had a good, solid rivalry in recent years.
"We really do enjoy playing them," said Adams. "They are a good match-up for us."
This Friday night at 6, South Lakes will conclude its regular season with a home game against Falls Church. It will be Senior Night for the Seahawks.