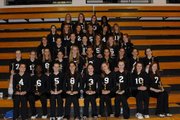 Virginia Elite Volleyball Club won the 18-, 17- and16-year-old Chesapeake Region Volleyball Association (CHRVA) Championships held at the Discovery Sports Center between April 20 and April 27.
All three Virginia Elite teams beat tough competition to win the CHRVA Regional Championship for their age group and will represent the Chesapeake Region at the U.S. Volleyball Association National Championships in Dallas, Texas June 26 to July 5, 2008. Joining Virginia Elite's three championship teams at the National Championships will be the Club's Fifteen-year old team, who placed second in the Chesapeake Region.
"When we started the Virginia Elite Volleyball Club three years ago, we could only imagine this level of success in the Chesapeake Region," said Tom Lowery, President of Virginia Elite.
The three championship teams include players throughout Northern Virginia.