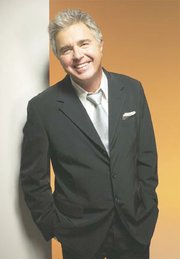 Steve Tyrell will be performing at the Birchmere on Monday, May 19. He draws inspiration for his music from music greats like Quincy Jones, Frank Sinatra and R & B singers from the 60s. For more on his performance and tickets visit birchmere.com.
<b>Introduce yourself:
</b>Hey, my name is Steve Tyrell.
<b>How did you get your start in music?
</b>I started singing in two bands when I was a teenager in high school in Texas and made my first recordings when I was 15 years old.
<b>How were your musicians chosen?
</b>Being a veteran record producer most of my life, I have been exposed and have worked with some of the greatest musicians of all time. I try and use this experience when I'm making my albums. On my first six albums, I have tried to blend some extremely talented young musicians with music legends like Clark Terry, Plas Johnson, Toots Thielmans, Quincy Jones, Dr. John, Sweets Edison, Chris Botti, and Dave Koz.
<b>How long have you been performing?
</b>As I said earlier, I started singing in my first bands when I was 15 years old.
<b>What is it that you love about performing?
</b>I feel it's a privilege to be able to play your music live for people, and that interaction between me and the audience (which changes every night from one show to the other) is my favorite thing about playing live. I also love the idea that, in a lot of cases, I am bringing the Great American Songbook to young audiences that may have never experienced this music before.
<b>What is your best memory when it comes to music?
</b>There have been a few: Producing and working in the studio with Ray Charles, singing at the Hollywood Bowl with Quincy Jones the night Frank Sinatra was inducted into the Hollywood Bowl Hall of Fame, and playing last Monday night with the New York Pops Orchestra at Carnegie Hall at the request to the Steinbrenner family in a tribute to my favorite team— the New York Yankees.
<b>Where is your favorite place to play, either publicly or personally?
</b>Wherever I'm playing that particular night.
<b>Best compliment about a performance?
</b>Nancy Sinatra waving her arms at the Hollywood Bowl telling me that my version of her Father's classic song "Fly Me To The Moon" that I had just sung was great.
<b>What is your favorite piece of music and why?
</b>Almost any Ray Charles song.
<b>Who would you love to play with? Why?
</b>I would love one day to have a concert with Alicia Keys. Her music is fresh and soulful, but yet she is rooted in the tradition of the Great American Music of the past. I loved the way she opened the Grammy's this year with the Frank Sinatra Song. That shows what I am talking about. I also love Amy Winehouse, Diana Krall, and Tony Bennett.
<b>Describe your sound:
</b>Most everything I do has some blues influence whether it be pop music, R&B, or Country. So I would say my sound is rooted in the blues.
<b>Biggest musical influences:
</b>Ray Charles, and Frank Sinatra, plus the great R&*B singers of the early 60's: Ben E. King, Chuck Jackson, Jerry Butler Sam Cooke, and Otis Redding.
<b>Where have you toured?
</b>I have toured virtually all over the world, and next month I am going back to Asia and Japan for the second time.
<b>Anything special about the upcoming show at the Birchmere?
</b>I will be premiering songs from my latest album "Back To Bacharach" which I am extremely proud of as I was a part of the creation of that music in the first place. Burt Bacharach, Hal David, and Dionne Warwick were my mentors in pop music.
<b>Future plans:
</b>Back to Bacharach comes out on June 24.