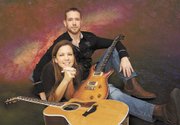 The Jim & Ashley Cash Band performs original eclectic folk-rock. The music of this husband and wife team is both environmentally and spiritually focused and offers a positive outlook on the challenges that currently face humanity. They are Potomac Falls residents.
Introduce yourself:
We are Jim and Ashley Cash, husband and wife singer-songwriters and we perform original eclectic folk-rock.
How did you get your start?
Jim: My first guitar was gifted to me in 1995. Shortly following that I became a serious student of the guitar and gravitated toward the songwriting craft. I met Ashley in the summer of 2002 while we were both in college. Ashley had been performing in local coffee shops since she was in high school. The day that I met Ashley, I heard her sing and was blown away by the power in her voice. We fell in love, decided to put our talents to work and began performing together in 2004 and were married in 2005.
How long have you been performing for?
We have been performing together since 2004.
What has been your best memory when it comes to music?
Jim: I was at a Carlos Santana concert back in 1997 when he was doing a benefit tour to help save music education. During the show Santana was speaking about many of the great musicians who have impacted our lives. Interestingly, there was unrest in the crowd. People did not seem interested in what he had to say and at one point actually booed him, wanting him to just play his music and be entertained. Most notable was the mastery demonstrated by Santana in reaction to this. Instead of getting angry with the crowd he spoke with conviction and compassion about discovering life's purpose and letting your light shine through even in the darkest of times. He said, "You have succeeded if you have positively impacted just one person." It was in this moment I felt as if he was speaking directly to me, which provided me with the inspiration to write music that I believe in.
Describe your sound:
Stylistically our music is interspersed with elements of folk, rock and alternative. We will often alternate between acoustic and electric guitars, which creates a dynamic contrast that range from hypnotic and introspective to energetic and empowering.
Biggest musical influences:
U2, Peter Gabriel, Dave Matthews, Paul Simon, Van Morrison, John Lennon, Jack Johnson, Santana, Jackson Browne, C.S.N.Y. [Crosby, Stills, Nash and Young], Eva Cassidy, Joni Mitchell, Tracy Chapman, Grateful Dead, Pink Floyd, Led Zeppelin and Michael Hedges.
Other influences:
Nature. Poets and writers: Walt Whitman, Ralph Waldo Emerson, Henry David Thoreau, Rumi, J.R.R. Tolkien, Don Miguel Ruiz, Greg Braden and Deepak Chopra.
Favorite pieces? Why?
Our favorite pieces are, "More Than This" by Peter Gabriel, "One" by U2, and "Imagine" by John Lennon because of their universal themes of love and compassion.
Where is your favorite place to perform and why?
Currently, one of our favorite places to perform is Cameron Perks Coffeehouse in Alexandria. It is an artsy intimate setting that is very comfortable and laid back. They have a separate room where they host live music and the acoustics are superb. We put on acoustic shows there once a month.
What do you enjoy most about performing live?
The opportunity to share our music and the excitement that we feel when we know we have moved someone.
Anyone you would really like to play with? Why?
We would love to play with Jack Johnson and Carlos Santana because they are on the cutting edge of helping to inspire change and doing a phenomenal job reaching the younger generations.
Best compliment about a performance?
After one of our performances someone came up to us and said that they could tell that we were meant to be doing this and that the message in our music was truly positive and inspiring.
Anything special about the upcoming show?
The show is at Riverbend Park in Great Falls. This is one of our favorite places to visit for it's natural beauty. The opportunity to play at such a scenic place is a real treat for us. Also, there will be several conservation groups there to help raise awareness about protecting our environment. This is an important theme in our music and we love being part of the collective effort.
Most recent song you've listened to?
The most recent song we have listened to is "Lives in the Balance," by Jackson Browne
How can people hear your music?
We have our studio recordings available to sample and download on both Myspace and Digistation. We run an e-mail list to keep our fans posted of upcoming performances and post our upcoming performances on our Web sites: www.jimandashleycash.com and www.myspace.com/thejimashleycashband.
Future Plans:
We would love to make performing our full-time occupation. At present we own and operate a private music instruction business called Potomac Falls Music. We have several instructors who teach for our company in the local area. We plan to continue running this business while still teaching a handful of students so that we can focus our attention on continuing to compose and perform.
More like this story