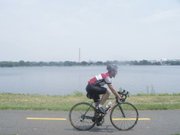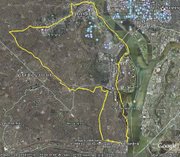 <b>IN RECENT YEARS,</b> both Arlington County and the City of Alexandria have taken strides to make their respective communities more friendly to cyclists.
<p>They have created hundreds of miles of dedicated bike lanes, repaved existing bike trails and installed dozens of bike racks, all in an effort to make the area more amenable to cyclists.
<p>"Arlington and Alexandria are both well-positioned to be heavy bike usage communities," Alexandria City Council Member Rob Krupicka (D) said. "I think we're better than most right now."
<p>Now Arlington and Alexandria will be teaming up to host the fourth annual Community Bike Ride as a way to show that, in this area, cycling can be a practical substitute to driving.
<p>"With the increase in gas prices and focus on the environment, people are starting to see the bike as a viable means of transportation," Chantal Buchser of the Washington Area Bicyclist Association said. "If you're just running up to the grocery store, you don't need to take your car."
<p><b>THE COMMUNITY</b> Bike Ride began in Arlington in 2005 as a way to encourage bike use in the County. "It's to show people how they can get around by bike," Buchser said. Her organization, the Washington Area Bicyclist Association, is organizing the event.
<p>She said that Arlington and Alexandria are both exemplary in what they offer to cyclists. One of the most helpful things for cyclists, Buchser said, are the detailed maps that show the bike routes of the area. "They have great maps," she said. "If you know you want to get from point A to point B you can get there using the maps."
<p>Arlington County Board Chairman Walter Tejada (D) said that the Community Bike Ride is an important part of the effort to encourage bike usage in the area. "We are promoting as much as we can the use of bicycles," he said. "Not just as an alternative means of transportation. It's also healthy."
<p>Last year, the City of Alexandria joined in the act. "We have some very involved advocates here in town who knew of the Arlington ride and we all felt like a ride done jointly by the jurisdictions would be good for people," Yon Lambert, a manager in the City's transportation department, said. "[It] would help us show the connectivity particularly, between the trail systems"
<p>"It's nice to have a partner like Arlington who can show us the way in some areas," Krupicka said.
<p>The focus of this year's event, organizers said, is to show participants how easy it is to travel between the City and the County on a bicycle. Combining the two jurisdictions was a natural, Arlington County bike expert Paul DeMaio said, because they share several trails and dozens of routes.
<p>"Alexandria and Arlington are so similar," he said. "If we were to do the ride separately it would just be duplicative of all the work."
<p><b>THIS YEAR'S</b> Community Bike Ride starts and ends in Crystal City, an area that is trying to project a cyclist-friendly image.
<p>"We're very excited to be the main host," said Angie Fox, the president of the Crystal City BID, a group that promotes the area's businesses. "It's a showcase for the active side of Crystal City."
<p>"We have the lovely Mount Vernon Trail that gets heavily used here," Fox's colleague Maurisa Turner-Potts said. "We have open spaces and dedicated bike lanes."
<p>This year's bike ride offers two routs for cyclists to choose from. One is an eight-mile course that goes up and down the Mount Vernon Trail, which runs alongside the Potomac River from Rosslyn to Mount Vernon. DeMaio said that this course is for "younger individuals or maybe people who haven't been on a bicycle in a while."
<p>The other course offered is a 23-mile tour around the Arlington and Alexandria area. It goes from Crystal City up to Rosslyn, out to the East Falls Church neighborhood, along the Washington & Old Dominion Trail, down through Del Ray and into Old Town Alexandria before finishing back up to Crystal City.
<p>But make no mistake, event organizers said: this is not a race. Rather, it is a chance to get a scenic tour of the area while discovering all Arlington and Alexandria has to offer cyclists.
<p>DeMaio said, a crew of police escorts will be at the front of the pack and "No one is allowed to pass them. If anything, the police will be the winner."