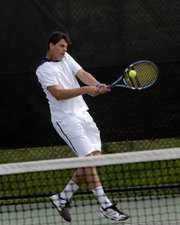 The Robinson boys tennis team won their third straight Virginia state title on Sunday afternoon with a 5-4 win over Mills Godwin.
"This was a total team victory with everyone contributing," said Robinson head coach Paul Fisher, in an email.
In singles matchups, senior No. 1 Drew Courtney easily defeated Mills Godwin's Kyle Parker (6-1, 6-3), Doug Gallagher defeated Edgar Vitkowski (6-1, 6-2), No. 2 Kevin Castellow beat Kevin McMillen (6-3, 6-1) and Stephen Hardy beat Kevin Calhoun (7-6, 6-2) to give the Rams a impressive 4-2 lead heading into doubles.
With the defending state doubles team of Courtney and Hardy and a strong No. 2 doubles team of Gallagher and Billy Nason, things looked good for the reigning champs.
Upsets at both No. 1 and No. 2 doubles, however, left the fate of the Rams up to the No. 3 doubles team of sophomore Castellow and junior Sam Coster.
With Courtney and Hardy falling, 6-3, 6-2, and Gallagher and Nason falling, 1-6, 7-6, 6-4, the score stood knotted at 4-4, with No. 3 doubles the last match remaining.
In an intense back and fourth match, Castellow relied on his state tournament experience and Coster provided impressive volleys to make sure that the state title remained at Robinson.
"[It was] not as easy as the last two when the Rams had their way with a strong singles line-up, but just as satisfying or more so since they had to handle the pressure of a tight match and dig deep within themselves to pull this off," said Fisher.
More like this story