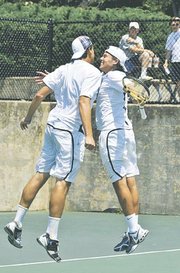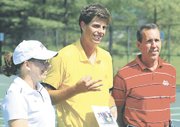 Fairfax senior Sidarth Balaji didn't attend Drew Courtney's graduation from Robinson Secondary School. But could anyone really blame him if he did? Sitting in the front row, tennis racket in hand, it's not all that unimaginable to picture Balaji leaping out of his seat in celebration when Courtney was handed his diploma.
Why?
Courtney authored one of the most prolific careers of anyone to play tennis in Northern Virginia, winning the past three Virginia AAA state singles titles, four straight doubles crowns and helping his team earn best-in-state honors during his sophomore, junior and senior seasons.
For most of that time, Balaji, a good friend of Courtney's, was relegated to spectator duty, having toppled Courtney twice himself -- and twice with doubles partner Jason Luu -- but never when it counted the most, in a postseason singles or doubles tournament.
With Courtney now a freshman at the University of Virginia, Balaji has the region spotlight all to himself. Well, only if Luu, Stuart's Justin Shane or Kevin Castellow and Stephen Hardy, both from Robinson, decide to graduate for some reason before the season ends.
"Even when I was there, it wasn't easy for me to play those competitors," Courtney said.
"With Drew gone, the next best could be anybody between the top three or four players," said Balaji, who'll play tennis for Northwestern next spring. But, as Balaji pointed out, Courtney's presence has been all negative either.
"Drew has one of the best serves that I've ever played, so when I was playing other people, I was used to a better serve so I can set up better and work on my return," said Balaji, who has a 2-7 career record against Courtney. "Drew has an all-around solid game with good volleys. You have to play your best to beat him."
Courtney's exodus has triggered all sorts of rippling effects across the region, leaving competition wide open for singles play and Hardy without his doubles partner of four years. But perhaps the most profound effect of Courtney's graduation has been the one that occurred closest to home.
<b>DESPITE HAVING</b> coached both the Robinson girls' and boys' tennis teams since 1995, Paul Fisher decided this winter to work exclusively with the boys, leaving the girls' team to first-year coach Jeff Jones, who has his group at 5-0 to start the season.
This spring, Fisher will focus only the boys' team, whereas last year he was rarely able to see both teams during match action at once. In addition to Courtney, Fisher lost Doug Gallagher and Billy Nason, who are starring at Lafayette and La Salle, respectively, from last year's team.
"Those guys, all of them, were No. 1 players on the vast majority of teams," said Fisher, whose boys' team has won its district title 15 out of the past 16 years. "When you lose three of them, it leaves a hole."
To fill that hole, Castellow has assumed No. 1 singles duties, while Hardy, recovering from a stress fracture in the forearm of his racket arm, has been playing at No. 2. Freshman Dakota Holloway has seen considerable time at both the No. 3 and No. 4 singles positions.
"There aren't many teams around that are gonna beat us at No. 1 and No. 2," said Fisher while also praising the 1-2 combination at Fairfax of Balaji and Luu, both recognized as top 25 players in the country in their separate age group by the United States Tennis Association.
"I learned a long time ago, you have to get five points," Fisher said. "No. 6 is as important as No. 1, at least as far as the team is concerned."
So far, Fisher's philosophy has worked. The Rams have jumped out to a 5-0 start, with an important 6-3 win over Fairfax on March 31, where Fisher said the team "really came to play." In its past 53 matches against district opponents, Robinson has not lost.
"It's a different season, a different team," said Fisher, whose team will host Oakton on Thursday, April 16. "You lose one of the best guys in the country and two other guys are playing on Division-I teams, it's a big difference. We still have good talent. But there's a lot of competition, and that's keeping them on their toes."