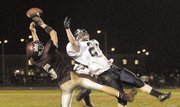 With a senior quarterback, a senior-laden offensive line, and a plethora of senior running backs, it seemed like only a matter of time before one of the Mount Vernon football team's elder statesmen asserted himself in last Friday's first-round playoff game against Washington-Lee.
A year ago at this time, the Majors seniors had just made the playoffs for the first time since 2001, only to lose handily to Madison in a game coach Tom Glynn said "the team was happy to just be in."
But with the score tied at 10 late in the fourth quarter against W-L, it was a just promoted junior varsity player and an under-the-radar tailback that helped the Majors secure a 17-10 win and advance to the semi-finals of the Division Five Northern Region playoffs.
The Majors jumped out to 10-0 halftime lead only to see it evaporate thanks to a 73-yard touchdown catch by wide receiver Karl Lendenmann on W-L's opening possession of the second half. A General field goal with less than five minutes remaining in the fourth quarter had tied things up.
That's when sophomore Emmanuelle Tackie, who had been brought up from the Majors' JV team for the playoffs so he could pretend to be W-L quarterback Charlie Fuller in practice, returned a squib kickoff more than 30 yards. A General facemask penalty added 15 more yards and the Majors took possession on W-L's 28-yard line.
Running back Robert Coleman took it from there, ending a methodical five-play drive with a five-yard touchdown run that the Generals never could recover from. The senior tailback had missed significant playing time due to a nagging ankle injury all season, and sat out Mount Vernon's regular-season game with W-L for disciplinary reasons.
"If (Emmanuelle) didn't have that good return, we wouldn't have been in a position to score," said a smiling Palmer, who finished with 54 yards rushing. "As soon as he did that, all I said was 'Coach, give me the ball.'"
The win was the seventh straight for Mount Vernon (9-2 overall, 6-1 National District) after starting the season 2-2. The Majors travel to face undefeated defending state champion Stone Bridge in the semifinals this Friday night.
And while it was the dramatic plays of Palmer and Tackie that capped off the victory, afterwards coach Glynn and some of his senior leaders couldn't help but throw praise on an unheralded group of linemen.
Led by two-way star Zach Quigley, who is listed at 6-foot-4 and 310 pounds, the Majors dominated the line of scrimmage, picking up 312 total yards (288 rushing), while limiting W-L's home run threat, quarterback Charlie Fuller, to just 54 yards rushing and a 6-of-17 passing performance.
In Mount Vernon's 12-10 win over W-L in late September, Fuller exploded for 162 yards on the ground, including an 82-yard touchdown scamper.
"We just clogged the holes the entire game," said Quigley. "There was nowhere for him to go."
It seems a year to stew over that first playoff loss did a world of good for this suddenly red-hot group of seniors.
"Last year left a bad tastes in our mouths, it wasn't a good feeling," said Palmer. "Coming into (Friday), we didn't want to have that feeling again."