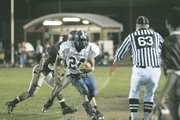 After watching his Washington-Lee football team get shut out in the first half of last Friday's first-round playoff match-up against Mount Vernon, coach Josh Shapiro knew his Generals needed a different kind of pep talk if they were to have shot at an upset.
This being the school's first postseason appearance since 1975, it seemed success was always measured in how close W-L had come to winning, rather than actual victories.
But after compiling an above .500 district record and playing Mount Vernon down to the wire earlier this season in a 12-10 loss, the Generals had developed a sense of entitlement.
The good part of that was W-L had no doubt it belonged on the same field with the Majors, but the bad part was the newfound confidence had resulted in a clunker of a first half.
"Coach just told us at halftime, 'You say you want to win, but you aren't doing it,'" said senior running back Keith Johnson. "After that we basically decided we aren't going to talk about it, we'll be about it."
From there, W-L showed the resolve Shapiro knew was there to begin with, going down swinging in a hard-fought 17-10 loss that ended the school's most successful football season in more than 30 years.
The Generals quickly broke down Mount Vernon's lead thanks to senior Karl Lendenmann, who turned a run-of-the-mill wide receiver screen pass into a 73-yard touchdown on the Generals third play from scrimmage of the second half.
After the W-L defense held the Majors' run-oriented attack at bay its next three drives, kicker Chris Almquist followed with a 22-yard field goal that was set up by a 36-yard punt return by senior quarterback Charlie Fuller with just under five minutes remaining in the fourth quarter to tie things ups.
Special teams helped the comeback at first, but they also proved to be W-L's Achilles heel. On the ensuing kickoff, Mount Vernon sophomore Emmanuel Tackie, just promoted from the Majors' JV squad, scampered for a 30-yard return and was awarded 15 additional yards thanks to a General facemask penalty.
It gave Mount Vernon possession on W-L's 28-yard line and the Majors methodically moved the ball, culminating in a five-yard touchdown run by Robert Palmer that proved to be the difference.
"Our kids fight, scrap and they worked hard," Shapiro said afterwards. "We played a physically tough team that was bigger and stronger than us and we battled."
W-L (5-6 overall, 3-3 National District) has its multi-dimensional signal caller to thank for its renaissance season. In his first full season on varsity (he went to another school his sophomore and junior years), Fuller was asked to line up at quarterback despite having never played the position in even a backyard game.
This was no beginner's luck, though, as Fuller brought his smash mouth running style under center and single handedly led the Generals down the stretch of the regular season. Mount Vernon coach Tom Glynn knew this, having almost been done in by Fuller's exploits when the two teams met in the regular season, and his entire defensive game plan centered on stopping the running back-turned-QB.
Fuller finished with just 54 yards rushing and 135 yards through the air, but his impact throughout the entire season wasn't lost on his coach.
"Having a kid like that step in was a huge asset to our team," Shapiro said. "They don't come around every year."
The next step for Shapiro after finishing his second season as head coach is making the postseason more than just a once every 33-year occurrence. For that to happen, Shapiro said his program must develop some depth to go along with high-caliber players like the outgoing Fuller and Lendenmann.
Still, it appears the foundation is in place to make meaningless W-L football games a thing of the past.
"We're going to continue to put out a competitive product," said Shapiro. "Teams are going to know W-L is no joke now."