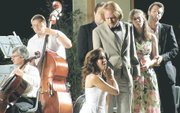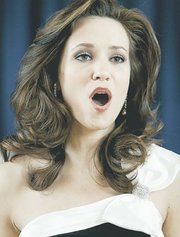 Adrianna Sgarlata, 26, of Fairfax Station, will perform in the Loudoun Lyric Opera's upcoming performance of Puccini's only comedic opera, "Gianni Schicchi."
"I'm delighted to be working in my first semiprofessional role with the Loudoun Lyric Opera and working with brilliant artists," Sgarlata, who was Miss Virginia 2006 in the Miss America Pageant, said.
WITH A CAST of 13 people from Northern Virginia and the metropolitan area, the opera is about a wealthy Italian man who dies and leaves his fortune to a monastery. His family hires Gianni Schicchi to impersonate their dad in order to change his will. The 75-minute production is a straight ensemble where the tight-knit characters rely on the other singers to make the story happen.
"It's really quite an enchanting piece," Sgarlata said. "It's gorgeous music that's written in a brilliant manner."
The opera includes a love story between the daughter Lauretta (played by Sgarlata) and Rinuccio. Sgarlata performed the role last summer in Italian at the Amalfi Coast Opera Festival in Italy. She called that experience "the most fun I ever had in my whole life," where town groupies followed the singers night after night.
This is the fourth production of the Leesburg-based resident opera company of Loudoun County. The performances are Friday and Saturday, Nov. 14 and 15, at 8 p.m., at St. David's Episcopal Church, 43600 Russell Branch Parkway, Ashburn. A Sunday matinee is on Nov. 16, at 3 p.m., at The Carver Center, 200 Willie Palmer Way, Purcellville. Tickets are $25.
Pamela Butler, president of the Loudoun Lyric Opera, is delighted that Sgarlata is cast in the opera. "She's a beautiful girl with a beautiful voice and one of the nicest people you could ever hope to meet," Butler said.
She says "Gianni Schicchi" tells a lot about human nature, about the things that motivate us — such as greed. "And sometimes family ties aren't what they seem to be," she added.
The performance includes a second act with short recital of Puccini's "La Boheme," "Madama Butterfly" and "Tosca." The conclusion will be "Turandot," the tenor aria made famous by Pavarotti and Placido Domingo. Sgarlata will sing "Ch'il Bel Sogno" from "La Rondine."
"OUR GOAL is to enrich the cultural climate of the community and to grow singers from this area," Butler said, adding that comedies are a good introduction to opera for people who aren't that familiar with them.
Sgarlata attended Clifton Elementary and Robinson Secondary. She has bachelor's and master's degrees in music at George Mason University with a concentration in vocal performance.
She wants to be a professional opera singer, perhaps with the Virginia Opera in Norfolk, as she does only classical singing.
On Dec. 9, Sgarlata will be performing Christmas Carols at the White House in its Holiday Open House. Linda Monson of GMU will accompany her on piano. Next March, she will be performing "Street Scene" with the George Mason Opera Theater. Next April, she'll be singing the role of the Queen of the Night in Mozart's the "Magic Flute," with the Prince William Symphony Orchestra.
To order tickets online, go to: www.loudounlyricopera.com. For information, call 703-771-0996 or e-mail: admin@loudounlyricopera.com.
Look for the next performance March 14-15, when the Loudoun Lyric Opera performs with the Loudoun Symphony Orchestra, the opera "L'Elisir d' Amore," at Heritage High School in Leesburg, Saturday, March 14, at 8 p.m., and Sunday, March 15, at 3 p.m.