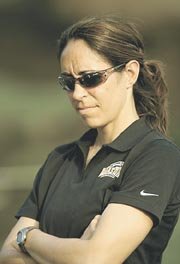 After interviewing to become the head coach of South County's girls lacrosse team on Thursday, Oct. 9, Elizabeth Schaffner returned home hoping to hear something by that following Monday or Tuesday.
When her phone rang that Friday, Schaffner was convinced that she had spelled her name wrong, listed the wrong address or otherwise botched some part of the application.
In reality, it was quite the opposite.
"It was within hours after our interview that we said, 'This is our person,'" said South County director of student activities Mike Pflugrath, who assembled a four-person panel for the interview. "I think you could actually tell during the interview itself that she was clearly the one we wanted."
As an assistant women's lacrosse coach at George Mason from 1998-2008, Schaffner has been immersed in the Northern Virginia lacrosse scene for quite some time. She has also served as co-director of the SuperNoVA Select Lacrosse Club for the past five years.
Schaffner went to St. Mary's High School in Annapolis and played Division I-A women's lacrosse at Loyola College in Baltimore. At Loyola, Schaffner started 62 of 66 games on defense for a squad that lost only two conference games and 13 total.
When she graduated from Loyola in 1998, the Patriots' coach at that time and current Stanford coach Amy Bokker offered Schaffner a job coaching her team's defense and scouting opponents.
In her first season, Mason's defense allowed the fewest goals in school history (121). This past spring, the Patriots (12-5) ranked fifth in the nation in caused turnovers per game (10.9) and sixth in ground balls per game (21.1).
<b>WHEN SPRING PRACTICE</b> starts at South County, Schaffner hopes to emphasize stick work and individual defense, two things she feels are essential at the high school level.
"Players are always excited about scoring, and they want to run plays and do that type of exciting stuff," Schaffner said. "But I definitely think the basics — stick work and individual defense — and then conditioning are the things that I'll probably focus on the most."
Schaffner inherits a South County program that has known no other coach than Barb Mahoney, who left after the 2008 season for a full-time assistant director of student activities position at West Potomac.
In three years, Mahoney won nearly 66 percent (29-15) of her games, while the Stallions lost in the first round of the regional tournament this past spring.
Schaffner has yet to see her new team play.
"I'm actually excited going into it not knowing what to expect," Schaffner said. "I like going in there with a clean slate. … Let the players on the field show me what they have rather than having an idea of how they played last year, what they played or who played what position."
Schaffner might not have seen some of her new players play at the high school level.
However, through SuperNoVA, she's developed a formidable club program and has seen or coached many of the top players from across the Northern Region.
With the club program, Schaffner oversees four teams, 80 players and eight coaches, with 18 of the Northern Region's 30 school having at least one representative.
"These kids, honestly, can't be luckier," said Amy Bokker, the head coach during Schaffner's 10 years at George Mason. Bokker recently accepted the job as head coach at Stanford University and she also helped Schaffner co-found the SuperNoVA club program.
"For the quality of coach she is, coming to a high school, I think she's going to do phenomenal," said Bokker.