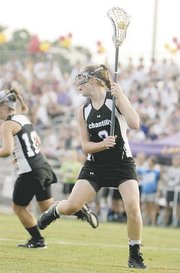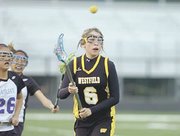 With a two major rule changes for girls' lacrosse teams set to go into effect this season, Chantilly coach Michele Gates has found herself working on something that has been a strength of her Chargers for the past few years: the finesse game.
The rule change essentially states that when a player is given a yellow card — something officials are being encouraged to do with more regularity — she must serve said penalty while her team continues on without her, playing short-handed.
But penalized teams can still have seven players — plus a goalkeeper — on the defensive side of the field, so whether the change will have a significant effect on play won't be known for some time. In the meantime, Gates has been trying to avoid those penalties all together by exhorting her players to defend more with their feet, not with their bodies or sticks.
"We're really working on our defensive positioning so we're not caught off guard," said the fifth-year head coach.
The second rule change is a byproduct of the first. Regardless of whether a player scored 100 goals and assisted on 50 more, those who are handed a stack of yellow cards throughout the season can now be denied postseason honors.
"We want to play good, clean lacrosse and reward the girls who do that," said Gates, whose team has jumped out to a 7-0 start this season with key wins over Annandale, Battlefield and Robinson.
While Gates has been working on her players' defensive positioning, the rule changes also figure to aid Chantilly's offensive game, which, with the return of two Division-I middies, figures to be the team's overwhelming strength this season.
Seniors Brittany Griel (Delaware) and Katie Stillwell (William & Mary) are both back for the Chargers, who finished 17-3 overall, 8-3 against Concorde District opponents last season and suffered losses to Oakton in both the Northern Region championship and the Virginia AAA state final.
Griel tallied 94 goals last season and assisted on 67 more. She also picked up 58 ground balls. Stillwell countered with 73 goals, 41 assists and 63 ground balls. And despite the loss of midfielder Christina Patten, Chantilly has six or seven girls, according to Gates, that are capable of scoring goals — not just Griel and Stillwell.
"We still have a pretty potent offense," said Gates, whose team will host Herndon on Friday night. "I think that's going to help us as long as we can maintain our defense."
<b>POWERED BY</b> another one of the Northern Region's top scoring threats, senior middie Amanda O'Sullivan, Westfield will look to improve upon last year's 11-5 overall record and 4-2 mark against Concorde District opponents.
O'Sullivan, who will play lacrosse next spring at Colgate University, netted 53 goals and 13 assists last year and was voted the team's Most Valuable Player for the second consecutive season. She was also a first team All-District and second team All-Region selection.
"She's a complete player," said Bulldogs coach Jim Dwyer. "She tremendous in the transition game because she doesn't hold the ball very long. Going into this season, I knew she was going to be our best player, but she's been doing everything this year."
Behind O'Sullivan, senior Hanna Skahn returns after tallying 27 goals and eight assists last year, as does Mary Barondess, a junior midfielder who had 27 takeaways and picked up 54 ground balls a year ago.
Like many lacrosse teams, Westfield will rely on several field hockey players, a Concorde District-title-winning group highlighted by O'Sullivan, Maddy Curry, Kat Kendrick, Nicole Ficarra, Ameera Ahmadieh and Blair Duncan.
"They've been successful in field hockey, and they're good athletes," Dwyer said. "It's very obvious that they're very good friends, too. Practice is fun. I don't have any negativity at all."
<b>CENTREVILLE</b> will try to address the losses of midfielder Maddie Mohr and defender Holly Broussard from last year's 2-8 team, which lost to Westfield in the first round of the district tournament.
Among those looking to make an impact, junior midfielder Solange Duong scored two goals last season and picked up 30 ground balls, while Dorin Methfessell was an honorable mention All-District pick, accumulating nine goals and 14 assists.