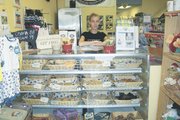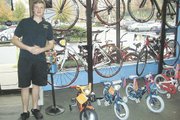 <b>IT'S NOT EXACTLY</b> Rodeo Drive, but Lee Highway in Arlington County can be a great place to find gifts for loved ones this holiday season. Stretching from Rosslyn out to the county line and beyond, Lee Highway is a major arterial road in Arlington. It doesn't have the brand-name stores of the Pentagon City area or the trendy cachet of the Rosslyn-Ballston corridor. But for those willing to go off the beaten path to find small, locally owned shops, Lee Highway is a goldmine. Here are four of the stores Lee Highway offers for holiday shopping:
<p><b>BIG WHEEL BIKES</b> is located on Lee Highway near Spout Run in a shopping center that also features a Giant, a take-out sushi restaurant and the Italian Store. The bike shop has been in Arlington since 1999 and is part of a local franchise that has other outlets in Bethesda, Washington D.C. and Old Town Alexandria.
<p>Mike Hwang, the store's manager, said that business at Big Wheel Bikes is good, with a steady stream of students and active professionals who like to use the county's many bike trails and lanes. In addition, the high cost of driving has driven many people towards bicycles. "When gas prices have gone up we did see a little surge," Hwang said.
<p>One of their most popular models is a hybrid Marin San Rafael bicycle that retails for $599. The Marin can be used as an off-road and on-road cycle, Hwang said.
<p>Because of the seasonal nature of the bicycle business, Hwang said that business slows down in the cold weather months. But he said that Big Wheel Bikes would be having holiday sales on prior year models and on their wide selection of children's bikes.
<p><b>A LITTLE OVER</b> a mile down the road is Facets Fine Jewelry store. Locally owned and operated, Facets is located in the Lee Heights Shops near Old Dominion Drive.
Alicia Arnold is a fourth-generation jeweler who works with her father at Facets. "It's a really good time to buy jewelry," she said. "This is the time to buy before [the economy] gets better."
<p>Facets Fine Jewelry is one of the few jewelry stores that do repairs and restorations onsite. They also handcraft their own merchandise. One of the items Arnold is most proud of is an $895 necklace she made herself with gold, diamonds and a geode-like ore called druzy.
<p>"Jewelry is not consumable," she said. "You'll have it for the rest of your life. [It's a] tangible memory."
<p>Facets will be placing many items on sale for the holidays, Arnold said, and will also be hosting a Ladies Night on Dec. 4 from 6 to 9 p.m. where gift bags and champagne will be given out.
<p><b>IF ONE'S TASTES</b> are more international, drive a mile down Lee Highway to Bollywood Dallywood, located in a shopping center with several stores and restaurants featuring ethnic fare. This boutique sells DVDs, CDs and clothing from India and Bangladesh.
<p>Bright-colored dresses and suits line the walls at Bollywood Dallywood, which has been located in Arlington for 12 years. Rows and rows of movies and albums, most costing less than $10, are located below.
<p>Sheuly Seltana, a shopkeeper at the store, said that all of Bollywood Dallywood's items are imported from overseas. One of its most popular items, she said, is a film entitled "Baadshah," a comedy about a kidnapping gone wrong. The film stars Shah Khan, whom Seltana said was the Indian Brad Pitt equivalent. "Everybody likes him," she said.
<p>The store doesn't have any specific sales planned for the winter holiday season. But it just finished a storewide sale for the Muslim holiday of Eid, in which many items were 20 percent off.
<p><b>HUMANS AREN'T</b> the only ones who need gifts this time of year. Canines are also entitled to some holiday cheer.
<p>For that, look no further than Dogma Dog Bakery and Boutique. Located on Harrison Street just off Lee Highway in the Harrison-Lee Shopping Center, Dogma bakes pastries designed specifically for pets. Faith Jennings, who works behind the counter, said that the most popular of their confections is the D.C. Delight, which is made from peanut butter and oats.
<p>The store isn't just for the four-legged, however. Dogma also sells toys and clothing for both adults and children. "People can come in here who don't like dogs or own a dog and they can walk out with something for someone else," store owner Mary Hogan said.
<p>Hogan opened the store eight years ago because she knew there was a market for high-end dog accessories in her North Arlington neighborhood. Also, she said, she wanted a job that would allow her to come to work with her two mutts, Jackson and Truman. "I just love dogs," Hogan said.