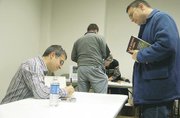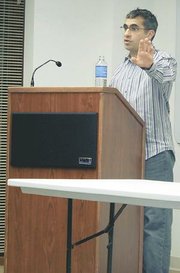 When Stefan Fatsis was prompted Wednesday night, Nov. 12 at the City of Fairfax Regional Library, he stood from his front-row seat, puffed out his chest and walked to the front of a conference room. Those gathered had come to see Fatsis, a professional athlete whose ego thrived on the moment.
Except that Fatsis didn't puff out his chest. He doesn't have a me-first ego and was simply there to discuss his book on the inner-workings professional football, where he learned that most players do not fit that cocky stereotype.
Not since George Plimpton's 1963 foray into participatory journalism with "Paper Lion," a book chronicling Plimpton's involvement with the Detroit Lions, has someone gained the access that Fatsis did for his latest work, "A Few Seconds of Panic: A 5-Foot-8, 170-Pound 43-Year-Old Sportswriter Plays in the NFL."
Fatsis joined the 2006 Denver Broncos as a placekicker, receiving permission from team owner Pat Bowlen and head coach Mike Shanahan. He attended and participated in all of the team's off-season workouts, included mini-camp and training camp. His goal was two-fold.
"This book is really about two things. It's about a 40-year-old guy trying to be a part of a pro sport, but it's mostly about what this multi-billion dollar business is really like," Fatsis said. "We think we know what pro athletes in pro sports are like, but the reality has always been quite different. When you peel back the layers, there's a lot that's hidden."
<b>A WASHINGTON D.C. RESIDENT</b> and New York native, Fatsis has written for The Wall Street Journal, the Associated Press and makes regular appearances on National Public Radio's "All Things Considered." Fatsis authored the 2002 best-seller "Word Freak: Heartbreak, Triumph, Genius, and Obsession in the World of Competitive Scrabble Players."
In his new book, Fatsis starts with his experience of training to becoming an NFL-caliber kicker. Through a random Internet search, Fatsis stumbles upon Paul Woodside, who currently serves as the West Springfield football team's kicking coach and works with a Springfield-based business, 4th Down Sports, which specializes in the training of kickers and punters.
In addition to attending a few of Woodside's kicking camps, often sharing the same holder and snapper as eighth- and ninth-graders, Fatsis endured his own training individual camp. Woodside put Fatsis through a rigorous training schedule but also made quite an impression on the soon-to-be NFL player.
"Paul was the first guy I called, and I just knew that he was my guy," Fatsis said. "He was enthusiastic. He got it. He didn't say, 'What are you crazy, you're trying to play in the NFL?' He completely understood what I wanted to do, and I could feel that excitement on the other end of the phone."
"This is something that he asked for because he said, 'If I'm going to do it, I'm going to do it right,'" Woodside said. "Here's somebody who is obviously well-schooled, well-traveled, well-everything, and then he's going to listen to a kicking coach. I think that's the exact reason why the book is such a success because he's such a success."
At the library, Fatsis read several passages from the book, including sections about how the idea to join the Broncos came about, his first practice and subsequent initiation to the Broncos and his private conversations with Denver coach Mike Shanahan.
<b>FOLLOWING HIS HOUR-LONG TALK</b>, Fatsis fielded questions from a mixed audience, consisting of several families and middle-aged men still looking for more gooey details of how the NFL really works.
"We like to have different types of programs, so that we appeal to a wide range of people in the community," said Katie Strotman, programming coordinator for the library. "A lot of our library programs can get a lot of women to come but not as many men, so I'm always looking for something that will drive some men into the library as well."
Despite all of the stereotypes, Fatsis discovered that NFL players were actually real people. Most contracts aren't as lucrative as those chronicled by the media and the players actually have personalities, goals and ambitions.
Throughout his experience with the Broncos, Fatsis kicks. He doesn't shy away from drills to scribble notes and observe. Through soreness and pain, Fatsis truly thrusts himself into the life of a professional football player.
"The goal was to get these guys to open up and be honest about what it feels like to play in the NFL," Fatsis said. "It's a hard game mentally, intellectually, emotionally and physically. It's also about the culture of this business, which is run by insecurity, paranoia, and these guys are treated badly by coaches.
"Nobody's going to hold a pity party for NFL players, but by the same token, I think it's important for fans to understand it's not all glamour and fun. The reality is for many of them it is a tremendous, tremendous grind."