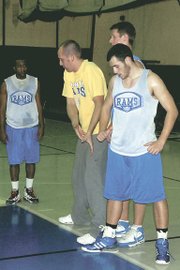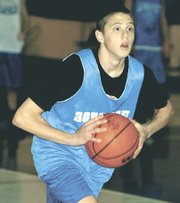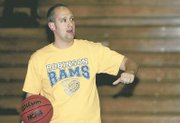 When Brian Nelson was hired in June to become Robinson's boys basketball coach, he made it a goal to change the school's basketball culture, hopefully elevating it to a football-like status.
Ironically enough, Nelson has called on a few age-old football principles to help him out.
An assistant coach at Langley for the past four years, Nelson helped mold the Saxons into a Northern Region finalist last winter, emphasizing conditioning, togetherness and a structured off-season program.
"If we proved anything at Langley, it's the value of off-season workouts and doing things together," said Nelson, a varsity assistant and the Saxons' junior varsity coach for the past three years and Langley's freshman coach in 2004.
"That's what has worked with kids who were willing to work hard and who were willing to put their heart and soul into a program," Nelson said. "These are the same kind of kids."
After coaching at his alma mater — Honeoye-Falls-Lima High School in Rochester, N.Y. — for four years, Nelson, 28, moved to Northern Virginia and took the job at Langley, posting a 31-18 record in three seasons at the junior-varsity level.
Nelson also developed a close relationship with current Saxons head coach Travis Hess. The two shared similar philosophies of how they believe a program should work, and a lot of what's installed at Robinson may resemble Hess' program.
Then again, a lot of what's instituted by Nelson may resemble the philosophies of Robinson football coach Mark Bendorf.
"We hated to lose him," said Hess, whose Saxons finished 24-6 last season. "He brings an enthusiasm and a passion to it that the kids will appreciate and respond to."
<b>IN FOUR YEARS AT LANGLEY</b>, Nelson ran three completely different offensive systems. He doesn't believe in having one system and forcing his players to fit the mold. He'd rather form his offense around the talent he has.
Last season, under third-year coach Matt McKeag, who moved on to become the head coach at Varina High School in Richmond, the Rams worked predominantly out of a four-out, one-in offensive set, meaning four players were scattered around the perimeter while the fifth jockeyed for position inside.
In the past few months, after watching his agile big men run the floor with ease, Nelson elected to take it a step further and install a five-out, motion-type offense.
"When we pass the ball to one side of the floor, we're going to send a cutter to that side of the floor," Nelson said. "It's a basic philosophy of sending a cutter from weak side to the strong side. We're going to send a screener away, and we're going to try and open up a guy off of a screen."
In more basic terms, the success of Nelson's offense will depend on his players' ability to read and react to situations, much like a quarterback would do with a blitzing linebacker or a Cover-2 pass defense.
"We're going to be looking for a lot of backdoor cuts, a lot of quick hitters," said senior Brandon Kuter, a 6-foot-6 center whose agility will be one of the keys to Robinson's motion offense. "We have to have the patience to hit the open man and get that one quick hit."
In addition to Kuter, who averaged 14.4 points and six rebounds per game last season, Nelson will turn to a familiar face to run the point. Jimmy Brewer, a senior guard, played on an AAU team this past summer that had Nelson as its assistant coach. Brewer averaged 4.9 points per game last season for Robinson, and led the team in both steals (46) and assists (53).
Besides Kuter and Brewer, Nelson will turn to Stephen Boettke, Mike Creighton and Brian Gardner for leadership and supplementary scoring. Gardner averaged three points per game last season while Boettke contributed 4.8.
"The one thing that kind of shocked me was all the work in the off-season," Brewer said of the transition of coaches. "Last year, we had conditioning, but it wasn't nearly as rigorous. [Nelson] is also really organized, and I like his style of offense. I think it's a lot more effective for our personalities."