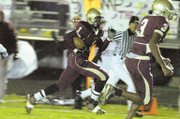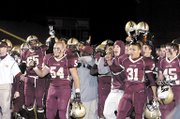 In many ways, Broad Run's 33-6 Region II high-school football championship game win over Potomac Falls last Friday night in Ashburn was a replay of the two Dulles District rivals' regular season meeting. In the title game, just like the regular season meeting Oct. 24, the home team Spartans won the battle of the trenches, received dominant outings from their skill position players and jumped out to an insurmountable first half lead.
Broad Run, just as it was when it beat Potomac Falls during the regular season meeting, 38-0, proved to be the dominant team in the region finals matchup as well. Now, the unbeaten Spartans (12-0) will move onto the state AA playoffs where they will host Chancellor of Fredericksburg in a semifinals game this Saturday afternoon at 2 p.m.
Potomac Falls, which qualified for the postseason for the first time in school history this fall, finishes the season 10-2 overall, with its only setbacks coming to Broad Run.
<b>THE REGION TITLE</b> is the first for Broad Run football. Following a 2007 season last year, which ended with a disappointing first-round region playoff loss following a perfect 10-0 regular season, the Spartans were on a mission to make some postseason noise this year.
They opened the playoffs two weeks ago with a 47-28 home win over Loudoun County in a region semifinals game. That breakthrough win advanced the Ashburn team to the second meeting with Potomac Falls, which had ousted James Wood, 26-7, in its region semi home game.
And in the title game, it was all Spartans as the home team built a 27-0 halftime lead and a 30-0 fourth-quarter lead on way to the triumph.
"We just wanted to come out and prove we were the dominant team," Mikey Cotton, Broad Run senior linebacker, said. "It's unbelievable and an awesome feeling."
Following Broad Run's regular season win over Potomac Falls, Panther coach Scott Woodlief said a huge key in that game's outcome was the line play, where Broad Run got the better of the action on both the offensive and defensive sides of the football.
On Saturday, Broad Run, once again, controlled the interior play. On offense, the Spartans' line contributed to a day in which Broad Run ran the football for 210 yards on the ground. Meanwhile, the Spartans' defense, held the Panthers' ground game in check with 110 yards.
"You've got to stop the run and they beat us up front a little bit," said Potomac Falls senior quarterback Greg Woodlief, also a member of the Panthers' defensive secondary. "We never could get it together. Right now it's kind of hard to remember the good times [of the season]."
<b>BROAD RUN'S</b> terrific running back twosome of Breon Earl and TJ Peeler both scored a pair of touchdowns in the first half. Earl, the smallish, versatile playmaker, scored on a 25-yard run early in the second quarter to give the Spartans a 14-0 lead. That was the first of three touchdowns Broad Run would score during a stretch of less than three minutes in the decisive quarter of play.
Earl (12 carries, 105 yards) came up with perhaps the game's most exciting play midway through the second quarter when he returned a punt down the right side of the field for a 35-yard touchdown, making the score 27-0.
Peeler, meanwhile, had a first half to remember as well as he scored on touchdown runs of 25 and 16 yards out. The first score, from 25 yards out, accounted for the first points of the game and came off a pitchout right play. Peeler, on the scoring play, jumped over a Potomac Falls pursuer before darting into open field and all the way into the end zone. The junior finished the game with 87 yards on 16 carries.
On the frigid, cold fall night, the game felt all but over at halftime. Neither team scored in the third quarter. But early in the fourth, Broad Run capped a 65-yard march with a 32-yard field goal by senior kicker Graham Allen to make the score 30-0.
A few minutes later, Potomac Falls got onto the scoreboard thanks to its defense when Woodlief snatched a Broad Run fumble and ran the ball 33 yards into the end zone.
Broad Run answered with a drive from its own 34 to the Potomac Falls 9, which concluded with an Allen field goal from 34 yards out to make it 33-6.
<b>IT WAS A</b> bad night for the Potomac Falls offense, which turned the ball over six times. Woodlief (14 of 33 for 184 yards) had a tough game with four interceptions. Panther standout running back Michael Baker was held to just 41 yards on 16 carries.
"We were able to key on Baker," Cotton said. "Woodlief is a good quarterback. We put pressure on him and the defensive line played great."
Broad Run got interceptions from Earl, senior linebacker Kenny McAdow and defensive backs Didier Saidi, Chris Jessop and Joey Quigg. Lineman Michael Reigel recovered a fumble.
"Our defense is awesome," Broad Run coach Mike Burnett said. "I've said it all year."
Burnett said the 2008 Spartans are a special team indeed.
"Teams like this come around [for a coach] once in a lifetime," Burnett said of his unbeaten Spartans now headed for states. "It's very special. For a great team, it's about chemistry and selflessness. They love each other and I love them."
The coach said last year's Broad Run team was thrilled to win the district title and make the playoffs. This year's team wanted more than that.
"They're very hungry," Burnett said. "Last year there was a sense of satisfaction that this group doesn't have. More than anything they want to keep playing."
Woodlief, the Potomac Falls quarterback, said the team came a long way this season.
"We've done a lot of good things for Panther football," he said, of the '08 squad. "We accomplished a lot by making the playoffs for the first time in school history."