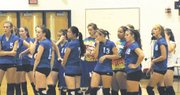 When the volleyball coaches of two teams under .500 declare their game against each other the biggest of the season, most would shrug it off to coaches trying every way possible to motivate their players.
In this case, T.C. Williams, led by coach Rhea Butler, had started the year 4-5 and were set to face off against Molly Szychulski's 1-10 West Potomac squad last Thursday night. Not exactly a marquee matchup.
But the caveat was this was each team's first Patriot district game, and with the way the Northern Region volleyball season has gone thus far, every district game counts more than ever.
Since there is a preponderance of good teams in the Concorde and Liberty Districts, it has meant a litany of teams within the Patriot and National Districts whose records look a lot worse than the talent would suggest.
Now they all must try to regain their footing with a clean district slate. With so many teams within the same district currently on the bottom looking up record-wise, it has created what could turn into the most competitive season in a long time.
"This is our first district game, so this is a big one, we need a win," Butler said before the game.
<b>AND IT WAS OBVIOUS</b> just how desperate each team was for that first district win, as both the Titans and Wolverines scrapped and clawed their way through a five-game thriller that saw West Potomac barely survive, securing its second victory this season, winning 25-22, 25-22, 13-25, 12-25, 16-14.
Leading the way for the Wolverines was senior Leigh Blair who finished with 15 kills and 18 digs. Junior Madison Tindle helped the cause with 22 assists. The win ups West Potomac's record to 2-10.
Jumping out to a quick two-game lead was a change of pace for the Wolverines, who have too often started slowly in matches this season.
"I've nicknamed us the comeback girls because a lot of the matches we lose are in five games," said Szychulski, who is in her first season as head coach at West Potomac. "We have the potential, the aggressiveness and when it comes down to the fifth game, we choke. Or we get really aggressive or our nerves get the best of us. (This) was the first night we pushed through those nerves to get the win."
Although the Wolverines had just one win coming into the match against the Titans, most of those losses had come in close matches to the upper echelons of Northern Region volleyball.
But throughout the mounting losses, Szychulski said the team was steadily improving. It just didn't show up in the win column against a non-district slate that was too difficult to handle effectively. Now, with a district win under its belt, West Potomac has confidence and momentum that could make them a dark horse towards the end of the season.
"I truly know that West Potomac can hang with a ton of the topped ranked teams," Szychulski wrote in an email looking back on the big win. "In the beginning of our season we were never swept and made a lot of people turn their heads with our scrappy talent. … The win against TC was not only huge for our division, but for our confidence also."
<b>FOR T.C. WILLIAMS</b> and coach Rhea Butler, the West Potomac game followed an all too familiar pattern for a team loaded with talent.
The Titans dug themselves into a hole, valiantly stormed back, only to watch as they realized it was too little, too late. The loss dropped T.C. Williams to 4-6 this season, and more importantly, 0-1 in the Patriot District.
"It's just not focusing," Butler said afterwards. "I think they looked at a team and looked at their record and went 'Oh they're 1-10.'… "I don't think it has anything to do with skill, it's more a mental toughness. When you think you've got it, volleyball is so mental."
The Titans have had plenty of time to regroup, with no games until this Wednesday's district match against Hayfield. West Potomac is back in action Wednesday with a district game against Falls Church.
And after battling each other and their treacherous early-season schedules, both teams know all too well just how important (and how hard) securing a win can be.