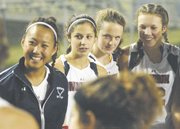 Screams and giggles suggested that Woodson field hockey coach Becky Preston wasn't around. After all, how could she have been?
In the moments before a pivotal Liberty District showdown against rival Langley, the Woodson sideline was more pep rally than pregame focus.
As the laughter grew louder and louder, Preston just stood and watched. It's a familiar routine for the second-year coach. Before every game, the team's senior captains prepare a rhyming poem, trumping the hackneyed "Let's go get 'em" speech delivered by many.
"It's kind of a tradition," said one of the authors, midfielder Becca Geist. "They've probably gotten worse through the years because we're not really good at rhyming."
Luckily for Geist and Co., the Cavaliers proved more capable of scoring than rhyming on Monday. With three first-half goals, Woodson earned a 3-0 win and moved to 12-2 overall, 4-0 in district play.
That Geist and classmates Mary Beth Barham and Jennifer Mikell struggled with those rhyming lines shouldn't come as a total shock. With nine seniors on last year's team, rarely, if ever, were they counted upon to be a vocal part of the pregame huddle.
<b>THE RHYMING</b> was done by now-departed Meg Thaxton, Lyndsey Butler and Sarah Vinall. With Thaxton and Butler on the Virginia Commonwealth field hockey team and Vinall playing lacrosse at Richmond, all three of last year's leaders are now playing Division I-A sports.
But even after that group won Liberty District and Northern Region titles, a class of 13 seniors has filled in behind, and, somehow, Woodson has improved. At this point last season, the Cavaliers were 10-4.
"We have a strong senior class, especially in our midfield with Mary Beth, Becca and Jen," Preston said. "They've really stepped it up, picked it up and they've done a great job."
If the year-to-year rotation of seniors has bolstered Woodson's lineup, so too has the Cavaliers' habit of besting the Saxons. With 14 seconds left in the second overtime of last year's Liberty District title game, Shelly Montgomery, now a junior, scored the game-winning goal to avenge a regular season loss to Langley. Montgomery's goal also erased a sour taste from Langley's 3-2 win in the 2006 district final.
Still, those two losses aside, Woodson has won five of the past six Liberty crowns.
"Woodson's a very talented team," said Langley coach Jennifer Robb. "They obviously lost some talented players from last year, but they have a whole lot of players that are capable of playing hockey."
<b>ON MONDAY</b>, Preston twice yelled "Cavalier Two" as her team lined up to execute two of eight first-half penalty corners. Preston's team has had trouble finishing its offensive chances and the coach's primary goal has been to simplify what the Cavaliers are trying to do.
Twice the Cavaliers were simple and successful. On the first corner play, senior Liesa Brauch finished a feed from Geist before junior Regan McLaughlin scored unassisted on the second corner.
"This year, we're trying to keep it simple on corners, and like it's just a matter of putting it in and overcoming what appears to be a mental battle," said Preston, whose team topped Marshall, 3-1, on Tuesday night. "[On Monday] we got over that battle and I feel like we've been passing well and moving to the ball well this year."
"Each year, you have to reload, and I think we've done a really good job," said Barham, who scored the Cavaliers' first goal off of an assist from Brauch. "We've brought in some new players, and they've definitely filled their roles. And we've really started to jell."