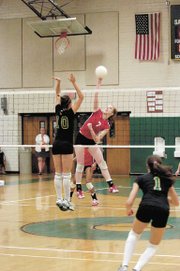 The only blemish to the Herndon High girls' volleyball team's win-loss record thus far was a three-game sweep at Chantilly on Sept. 25. Other than that, the Hornets have been victorious in all of their other matches, sporting a 14-1 overall record heading into this week.
In action last week, Herndon won a non-district match at Lake Braddock, three games to none. Prior to that, the Hornets defeated non-district guest Annandale in four games on Oct. 2.
"I always believed the best in all of my players," said Herndon coach Pat Smith. "I'm not surprised we've done as well as we have."
With the postseason set to begin in a few weeks, Herndon will be working hard to continue its outstanding play in hopes of carrying the regular season's momentum into the upcoming Concorde District tournament in two weeks.
The Hornets were scheduled to play district games this week against visiting Fairfax on Monday (Oct. 13) and at Centreville on Wednesday. And next week, Herndon will wrap up its regular season schedule with its final home game on Monday, Oct. 20 against Westfield and a game at Oakton on Thursday, Oct. 23. Both are district affairs.
Herndon is certainly one of the best teams in the metropolitan area this fall. The loss to district foe Chantilly was a bit of a stunner for the Hornets.
"We didn't find a rhythm," said Smith, of the three games to none match loss. "I think the team was real disappointed we didn't give them a better match. Things we'd done consistently all year we didn't do against Chantilly."
The coach said Chantilly's big, talented front line gave her team problems. The Hornets, she believes, would have fared better with a more brisk offensive strategy. She also credited the Chargers with serving well.
"Chantilly is a very strong team," said Smith. "They served tough, hit the ball tough and really brought a high level of play to the court. We did not have a very strong night. Their strong serving sort of knocked us out of our system."
<b>HERNDON'S SUCCESS</b>this season has been a result of outstanding team play and individuals playing at a high level within the team frame. Exceptionally strong seasons have come from junior middle blocker Steph Drahozal, junior middle blocker and first year player Hannah Vick, and senior opposite Jess Strother.
"Steph has consistently been one of our top kill producers," said coach Smith. "Hannah has been a little more hot and cold, with a couple of great games and some off nights. Jess is a co-captain. Her defense is good and she jumps high. She has led our team in kills at times. She's a very effective player all around, and she's a good blocker."
Another solid contributor has been junior outside hitter Kelly Madden.
"She's very strong on offense and defense, said Smith, of Madden's game. "She's been very consistent all along. She doesn't have off nights."
Neither has the team as a whole, for the most part.