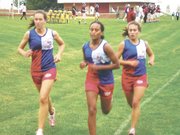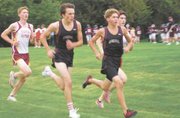 The Alexandria City Championships for cross country officially take place just one day out of the year, but for many of the participants the mind games begin as soon as practice gets underway in late August.
That's because the four schools that compete — T.C. Williams, Episcopal, St. Stephen's/St. Agnes, and Bishop Ireton — are all near each other, which means runners see each other practicing every day of the year.
"If we're on the sidewalk passing each other, the first thing we think about is we'll see you at city championships," said T.C. Williams senior Danny Ackerman.
The City Championships have been taking place off and on for years, but Titans coach Mike Hughes formalized the event in 1993, keeping track of records and making sure all four Alexandria schools cleared off a date on their schedules for the annual meet. The only years where the event hasn't taken place since then was 2000, because of unavoidable scheduling conflicts, and 2002, due to the D.C. sniper controversy.
In recent years, all the schools involved decided Episcopal should be the host course since it can handle the most amount of runners.
"I tell my kids, sports begin in your own neighborhood, you've got to compete in your own neighborhood and expand out from there," Hughes said.
The close proximity between all the schools ends up turning into "something the kids look forward to because they all know each other by face at least, and some of them know each other by name from other races," Episcopal coach Joe Halm said.
In addition to varsity boy's and girl's races, the meet gives each school's JV squad a chance to compete as well. The four-team meet is a welcome change of pace for everyone involved after going through a cross-country season chock full of larger and more cutthroat invitationals.
"It's nice to come here and run against three other teams and get a chance to place in the top 10 or the top 20," Bishop Ireton coach Brad Byrnes said. "It's a big meet, this is for bragging rights within the city."
<b>ON THE BOY'S SIDE</b>, the 2008 city title belongs to <b>Episcopal</b>, after the Maroon finished with four runners in the top 10. Sophomore Reid Nickle led the charge, easily outpacing the rest of the of boy's field, finishing in first place with a time of 16:50.5 on the 3.1-mile course. He was nearly 25 seconds faster than the second-place finisher.
Senior Peter Markoski wasn't far behind with a time of 17:43, good enough for fourth place overall. Senior Ben Shuford and junior Bierne Hutchinson also finished in the top 10 for Episcopal.
The <b>T.C. Williams</b> boy's team wasn't far behind with three runners in the top 10. Senior Danny Ackerman came in second place overall with a time of 17:14. Freshman Patrick Murphy came in fifth place with a time of 17:46, while senior Spencer Bradley rounded out the top 10 with a time of 18:12.
Led by senior Kevin Gottlieb's third-place finish, the <b>Bishop Ireton</b> boy's team came in a close third place in the team competition. Sophomore Jake Reichert and freshman Liam O'Connor both had top-10 finishes as well.
As has been the case most of this season, the <b>St. Stephen's/St.Agnes</b> boy's team was led by the senior duo Stefan Koester and Bryan Kloster, who finished in 14th and 15th place, respectively.
<b>T.C. WILLIAMS</b> took top honors in the girl's race, finishing with an impressive five runners in the overall top 10, including the first four runners to complete the course. Freshman Shannon Smythe won the race, blazing through the mostly flat terrain in a time of 20:12. She was closely followed by sophomore Adugna Desalegn (2nd place), senior Erica Weidman (3rd place), and senior Sarah Bryan (4th place). Senior Claire McNabb finished in ninth place with a time of 21:58.
The <b>Episcopal</b> girl's team just missed out on breaking up the Titan domination, finishing with four runners in the top 10. Led by junior Cole Lawton, whose time of 20:52 was good enough for fifth place, the Maroon finished in second place overall.
<b>Bishop Ireton</b> was led by freshman Ellie Marrin and junior Kaitlyn Degnam, who finished in 12th and 14th place respectively. <b>St. Stephen's/St.Agnes</b> had just one girl running in the varsity race, but junior Taylor Bono still finished with a respectable 21st-place finish.