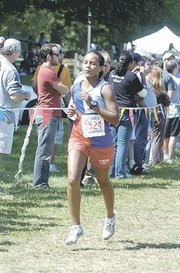 It would be easy for a runner to lose focus competing at the annual Oatlands Invitational high school cross country meet. The fall midseason extravaganza, which took place last Saturday on the 5K Oatlands course in Leesburg, is considered to be one of the largest high school cross country events on the east coast. There were 101 schools represented at the Invitational on Saturday, including teams from Pennsylvania, North Carolina and Colorado.
So runners and their respective teams had to have a grip on the enormity of the showcase meet prior to competing.
"It definitely has to do with experience," said Claire McNabb, a senior on the T.C. Williams High girls' team. "I used to get psyched out for this meet. But whether it's a big meet or small meet, you have to know what you want to do out there."
And basically, that comes down to athletes simply running their own races the best they can, which benefits themselves and their teams. That worked for the T.C. girls, who in the elite varsity girls' `A' race finished a respectable 21st place overall in a field of 37 teams.
Leading the way for the Titans was freshman Shannon Smyth, who finished 46th overall among 261 runners. Senior Sarah Bryan (76th) was the second T.C. runner to cross the finish line and sophomore Adugna Desalegn (86th) was third. Also contributing to the T.C. girls' solid team run were juniors Alex Bryant and Katie Newshan, senior McNabb and junior Shenandoah Raycroft.
"It's extremely hilly, definitely the hardest race of the season," said McNabb. "It's a most challenging course."
Earlier last week, the T.C. Williams girls finished fifth out of 19 teams at the Monroe Parker Invitational, held Sept. 16 at Burke Lake Park. The Titans totaled 172 points at that meet. The only teams to finish better than the Titans were first place Lake Braddock (51), second place West Potomac (108), third place West Springfield (112) and fourth place Langley (127). T.C.'s top two runners at the Monroe event were Smythe (14th overall) and Bryan (18th).
"We have a bunch of good upperclassmen and a strong group of young girls too," said McNabb, of the T.C. team.
<b>THE T.C. WILLIAMS BOYS</b>, at Oatlands, finished 30th overall out of 59 teams in the varsity boys' `B' race. T.C.'s top finisher was senior Danny Ackerman, who earned a medal with a 25th overall finish. The second and third Titans to cross the finish line were, respectively, freshman Patrick Murphy and sophomore Darren Foreman. Other solid contribut ions to T.C.'s good outing came from junior Thomas Caine, sophomore Jimmy Carragier and junior Matt Megill.
At the Monroe meet, the T.C. boys' top runner was Ackerman (26th overall).
<b>THE BISHOP IRETON BOYS</b> finished 21st overall at the Oatlands meet. The Cardinals' top three finishers were senior Kevin Gottlieb (46th overall), sophomore Jake Reichert and freshman Liam O'Connor. Also giving Ireton solid runs were senior Dan Palmer, junior Billy Burns, sophomore Michael Andersen and senior Colin Barkell.
The Ireton girls (30th place) were led by senior Katie Wilcox, sophomore Kara Zielinski and freshan Ellie Marrin. Rounding out the pack for the Cardinals were freshman Margaret Nealon, junior Caitlin Degman, senior Megan Berberian and junior Jenna Rupert.