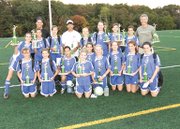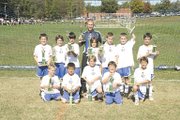 The Great Falls Fusion girls' U13 team won its division of the VIP Soccer Tournament held Oct. 11-12 in Great Falls. The Fusion team won all of their games with scores of 5 – 0 against CCS Elite, 1 – 0 against Quest Black, 2 – 0 against SYC Storm, and 4 – 1 against Sterling Dynamo. The team is coached by Jose Luis Venegas, along with assistant coaches Tom Klein and Tom Salamone. The coaches say that, since Fusion is a Great Falls soccer team, it was particularly rewarding to win the VIP Soccer Tournament since it honors the memory of a Great Falls soccer player Vanessa Pean, who died in October 2005.
The VIP tournament is a joint fund-raiser for the Vanessa Pean Foundation and Vanessa Pean Field Improvement Capital Campaign. The tournament has grown from eight area high school girls' teams in 2006 to 75 boys and girls clubs and high school teams this year, ages U9 through High School.
Great Falls Fusion originally was a Suburban Friendship League (SFL) team prior to moving up to the Old Dominion Soccer League (ODSL) in the fall of 2007. Since participating in ODSL, the team has moved up a division every season, moving from Division 3 in Fall 2007 to Division 2 in Spring 2008 and then to Division 1 in this Fall 2008 season.