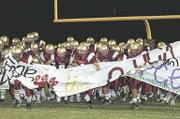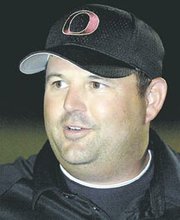 The ultimate late season, high school football scenario would have been for this Friday night's week 9 meeting between Oakton and host Westfield to be a matchup of two undefeated Concorde District rivals. It almost worked out that way, but not quite.
Oakton, following its 43-31 non-district home game triumph over Robinson last Friday night, is still unbeaten at 8-0.
Westfield, however, suffered its first loss of the season last Saturday afternoon when it fell to district foe Herndon in two overtimes, 29-28. As a result, the Bulldogs enter Friday's home contest against the Cougars with a 7-1 mark.
"For our team, it doesn't take any luster from the game," said Oakton coach Joe Thompson, of Westfield falling from among the unbeaten. "We know we're facing a very good opponent and know they might be more fired up [and determined] to bounce back."
The Cougars had their work cut out last week against Robinson (3-5), a perennial good team going through a tough season. Oakton led 9-0 after one quarter, before falling behind, 21-9, as a result of three consecutive Rams' touchdowns. But the guests got within 21-16 before the half as a result of a 66-yard pass play hook up from quarterback Chris Coyer to Trey Watts.
Oakton went ahead in the third quarter on a two-yard keeper score by Coyer, 22-21, before a Robinson field goal put the Rams back on top, 24-22. But the Cougars exploded for three fourth quarter touchdowns to take charge of the game. Coyer (10-of-15, 179 yards, 3 TDs) tossed two fourth quarter touchdowns. For the game, the athletic QB also rushed for 137 yards. Teammate Jonathan Meadows rushed for 104 yards and a score, while also catching a touchdown.
"Robinson played a great football game last Friday night," said Thompson. "We played like a veteran team and didn't get down on ourselves when we got some bad breaks."
Westfield, Oakton's upcoming opponent, appeared to be in control of its game against Herndon, which was celebrating its homecoming. A 68-yard scoring run by standout running back Jordan Anderson gave the Bulldogs a 15-7 lead early in the fourth quarter. But the Hornets tied the game a few minutes later when quarterback Zack Ozycs scored from a yard out, and then connected on a two-point conversion pass to Nick Impellizzeri to make it 15-15.
Following regulation, the Herndon duo hooked up again on a two-yard touchdown pass play in the second overtime to make it 29-22 Herndon. Westfield QB Danny Fenyack, on the Bulldogs' ensuing set of downs from the 10, scored from a yard out to get his team within 29-28. But Westfield, going for the win, failed on a two-point pass play. The result was a Herndon (6-2) victory with the Hornets' players celebrating in spontaneous joy on the field.
Oakton hosts Herndon in the regular season finale on Halloween night.
Thompson knows Westfield, under coach Tom Verbanic, will be a determined team this week after such a tough loss to Herndon.
"They have the whole package," said Thompson, of Westfield's team strengths. "They are coached well in all facets of the game. They are good on special teams and are positioned well on defense."
<b>BOTH MADISON AND MARSHALL</b> lost in Liberty District games last week. The Warhawks (4-4) fell to perhaps the best team in the Northern Region in Stone Bridge, 35-0, in Vienna. Marshall, meanwhile, saw its record slip to 3-5 with a 35-21 home loss to W.T. Woodson.
The Statesmen scored touchdowns in each of the first three quarters, but trailed Woodson 28-21 going into the final quarter. Marshall senior QB Harold Sweet (10-of-19, 143 yards) scored on a 10 yard run in the first quarter. In the second quarter, sophomore running back Vic Vanegas (83 yards rushing) caught a 21-yard touchdown pass from Jamie Cleer. Marshall's final touchdown came on a 24-yard pa ss play from Sweet to Justin Stalcup.
Marshall will be at South Lakes this Friday night. Madison, meanwhile, will be looking to get back over the .500 mark when it plays at home this Friday night against McLean. The Warhawks have lost two straight (Woodson and Stone Bridge).
Madison and Marshall, in the season's final week, will meet on Oct. 31 at Marshall.