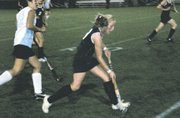 The field hockey regular season finished up last week and the exploits of many of the area's best players did not go unnoticed.
<b>Yorktown</b>, which won the National District regular-season crown, had the most impressive collection of players garnering honors. Junior right wing Hope Barrazotto was named the National District's player of the year, while also being named first team all-Northern Region.
Senior Chrissy Radloff and junior Olivia Shipley were also included on the all-region first team. Senior captain Libbie Dean was named first-team all-district as well.
For <b>Washinton-Lee</b>, who finished in second place in the National District after losing an emotional 4-2 game against Yorktown late in the season, the postseason awards were also plentiful.
Senior Rose Dodge and juniors Kelsey Clark and Molly Wolford were named first-team all-district. Senior Lindsay Boryan, senior Ariel Hamilton, junior Anne Murray, and junior goalie Amanda Maggio each were named second-team all-district.
<b>Wakefield</b> senior Evelyn Reyes was named first-team all-district, while goalie Lauren Martir and junior forward Karina Carlson merited honorable mention recognition.