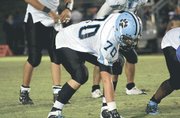 As a child, Centreville senior offensive tackle Luke Bowanko wasn't handed much of anything. It wasn't a result of poor parenting, Bowanko simply had to earn what he wanted.
Whether it was a video game that required a 4.0 GPA or a fancy meal that brought with it a 10-tackle price tag, Mike and Sheryl Bowanko wanted to instill a positive work ethic and a strong sense of accomplishment in the second of their three boys.
With that in mind, there probably aren't many defensive ends around the Northern Region that'll be all that excited to cruise around in the latest fruit of Luke Bowanko's labor: a black 2005 Ford F-150.
Bowanko committed to play football at the University of Virginia this past spring, and his college savings, which totaled around $18,000, was no longer needed.
"It's his reward for saving his mom and dad about $100,000," joked Mike Bowanko.
"Everything has been driven by success. You have to succeed in something to get a reward," Luke Bowanko said. "That's helped me out a lot through football. You're never at your top, you can always get better."
One of the top offensive lineman in Northern Virginia, Bowanko plans on driving his truck — Alan Jackson, Clint Black or Josh Turner in the CD player, please — to Charlottesville, taking advantage of an official visit, which because of his speedy commitment went unused.
For the 2008 Spring Football Festival, an annual tradition at most Division I schools, Bowanko traveled south on an unofficial visit to meet with the Cavalier coaching staff.
After a round of smiles and handshakes, Bowanko began discussing the school with his parents and Centreville coach Gerry Pannoni. And as someone who generally knows what he wants and grabs it, Bowanko didn't need long to grab a scholarship that was offered on Monday morning by Virginia coach Al Groh.
"I had my mind made up already, so I went ahead and got it over with quickly and saved myself the pressure and all the summer trips," Bowanko said. "I was allowed to be a high school kid for my summer."
<b>AS IT TURNS OUT</b>, Bowanko's lightning-quick decision represented more than just how he felt about the University of Virginia. The 6-foot-6, 260-pound Bowanko is projected as an offensive tackle in Virginia's offense, and with a 4.7-second time in the 40-yard dash, it's likely that his speed will act as a benefit.
A three-year starter for Pannoni, Bowanko has thrived in Centreville's offense. Pannoni often depends on Bowanko to pull, forcing his star lineman to take on an outside linebacker — someone much quicker and smaller — in open space. It's a difficult assignment but one that Bowanko enjoys.
"We let him pull and we do some things with him on screens that maybe other teams don't do," Pannoni said. "That's what helps him on the football field because he is athletic and he can run around and do some things that other big kids can't do."
"Luke's a big, strong kid," added Chantilly coach Mike Lalli, whose Chargers will square off with Centreville on Friday. "He's a very good pass blocker. I expect to see a real physical performance by him."
Bowanko's athletic ability and coordination have been honed on the basketball court. A two-year varsity player for since-departed coach Brian Doyle, Bowanko has consistently improved his footwork and how he operates with people around him.
"I think footwork is one of the most overlooked fundamentals in basketball, so he benefitted tremendously from working really hard on his footwork," said Doyle, who stepped
down after this past season and was replaced by his assistant, Drew Murphy. "We've all seen the 6-foot-6, 250-pound kid that can't move, but Luke can move a little bit so that just makes him that much more effective on the basketball court."
Bowanko hasn't decided whether or not he'll play basketball this season, mainly because he's been too focused on impacting the sport he's currently playing. With a 36-26 loss at Mount Vernon last week, Centreville dropped to 1-7 overall, 0-4 in the Concorde District. It's been a tough, unexpected string of losses, but Bowanko, not surprisingly, has remained upbeat.
And even less surprising, Bowanko has found yet another incentive.
"I know everyone out there is giving 100 percent, so it's not like I'm upset. I'm upset with the wins and losses, but I'm having a good time playing," said Bowanko, who was an All-District and honorable mention All-Region selection last season. "It's important for us seniors and juniors, just because we're 1-7, we're not going to give up. We're Centreville and we're going to keep plugging away.
"Centreville High School is important to me, so I want to do everything I possibly can to make the program succeed. That's showing the young guys how to play and how the handle themselves."