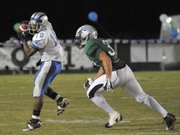 Needing a win to right the ship after two straight losses had derailed a fast start, West Potomac delivered a dud last Friday night, losing to South County 38-0, in what could prove to be a debilitating loss down the road.
The defeat drops the Wolverines to 5-3 this season after beginning the year with five consecutive wins. South County upped its record to 5-3 as well, and jumped ahead of West Potomac in the power point rankings (determined with a mathematical formula involving a team's record and schedule strength) that are used to seed the Northern Region playoffs.
None of the offensive firepower that had characterized the Wolverines' early-season success was on display against the Stallions. Opting to run the ball more than usual, West Potomac never got on track, and fittingly the game began and ended with interceptions by usually dependable senior quarterback Cole Walter.
"When you lose like this in all facets of the game — offense, defense, special teams — I as a coach have to go back and reflect on what we did, how we do things during the week." West Potomac coach Eric Henderson said afterwards. "I have to turn this around and get this focused on where we were at the beginning of the season."
South County coach Pete Bendorff credited the play of his two senior cornerbacks, three-year starters Karlos Morgan and Kyle Michaels, for shutting down the Wolverines' high-flying passing attack.
West Potomac's Kristian Rodriguez, who has close to 800 yards receiving and 12 total touchdowns this season, was held largely in check. He finished with just three receptions for 16 yards.
It didn't help matters that the Wolverines struggled in the punting game, particularly in the first half when South County started four possessions inside the West Potomac 30-yard line. The Wolverines also committed four turnovers in the game.
"Yeah, we made a lot of mistakes, but they forced those mistakes," Henderson said Sometimes you look at yourself and say what went wrong with us, but sometimes you just say there are times when you just have to knuckle down and take it because they came after us."
Despite the loss, the Wolverines are still clinging to the eighth and final Division Six Northern Region playoff spot if the postseason were to start this week.
But that could change this Friday, as West Potomac travels to Annandale (currently No. 9 in power points) in what has turned into a do-or-die game for the Wolverines. A loss to the Atoms would likely cripple any remaining shot West Potomac has at returning to the playoffs.