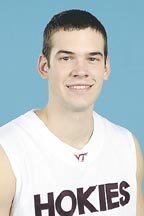 One week it was a pair of sweat pants. The next week Chris Panneton was handed a T-shirt. For his third week of leg-burning, time-consuming work, he finally was given a locker to put both of them in.
The first six weeks of South County graduate Chris Panneton's time at Virginia Tech felt more like a "Seinfeld" episode than the start of a Division I-A college basketball career.
Though he was working out with the Virginia Tech men's basketball team, Panneton never really knew what his status was. As an eventual non-scholarship walk-on, it wasn't exactly anyone's priority to tell him.
"During the whole process, I had no idea what was going through [the coaches'] heads," Panneton said. "At the end of every week, I thought, 'OK, maybe next week … maybe next week.' And when I finally knew, it was such a relief."
After six weeks of grueling workouts, Panneton was finally assured of his status during a team breakfast. An assistant coach joked with him about now wearing No. 11, and Panneton, honestly, didn't know that he did.
<b>IN 2007-08</b>, as a 6-foot-8 forward for coach Mike Pflugrath's South County Stallions, Panneton averaged 13 points per game, 8.3 rebounds per contest and made 31.7 percent of his three-point shots. About the only thing that he didn't make, though, was a quick and simple decision.
Pflugrath, who was a teacher at South County before becoming the full-time director of student activities in October, taught Panneton every morning in his AP government class. The two of them had met previously at Panneton's house to map out several Division III opportunities and would discuss them frequently before class. Then one morning, when Panneton walked into the classroom sporting a Virginia Tech sweatshirt, Pflugrath knew.
"As soon as I saw that I said, 'What happened?'" Pflugrath remembers of the exchange. "Chris said, 'I applied to Tech and I got in,' and I said, 'Chris, you understand that might end your basketball career because [Virginia] Tech is ACC. … You're getting recruited by Division III schools.'"
Panneton didn't feel comfortable at any Division III school. As a part of the recruiting process, Panneton worked out with potential teammates and attended his share of Division III games, but it wasn't where he saw himself fitting in. As the son of two Virginia Tech graduates, Panneton wanted to attend a larger school.
<b>AT FIRST</b>, Panneton didn't even consider playing basketball. A 3.5-plus GPA student with an SAT score of 1,930, he had no problem focusing solely on his education. Maybe college basketball just wasn't for him.
When Panneton was accepted at Virginia Tech, he had made his decision and informed a few of the schools he had tried out for. American University, which also offered Panneton the opportunity to play as a walk-on, placed a phone call to Blacksburg to let the Hokies know that Panneton would be on campus.
Panneton and Virginia Tech's coaching staff began a dialogue and they agreed that Panneton would audition for a spot by working out with the team once school started.
"Obviously, he loves the school, being that he came here just to go to school," said Hokies assistant coach Ryan Odom. "We've been excited to have him. He's certainly a kid that cares about doing the right thing, working hard and trying to help in any way possible."
"The hard work paid off for him," Pflugrath said. "He had to sacrifice a lot of things and really put himself out there, and I admire that because he stuck to his values."
By making the team, Panneton isn't assured a four-year spot and he didn't pick up a lucrative scholarship offer. Still, it's entirely possible that on Jan. 4, 2009 Panneton could be sitting on Virginia Tech's bench at Cameron Indoor Stadium when the Hokies square off with the Duke Blue Devils.
"It won't even hit me that I'm going to be with the team during a game until I'm actually there," Panneton said. "I'm just looking to try and experience everything and take it in to the fullest because this is a once-in-a-lifetime thing for me."