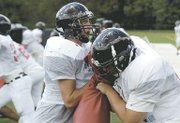 The James Madison High football team might not be quite as experienced as last year's squad which finished 9-3 overall and reached the Northern Region Div. 5 quarterfinals, but the Warhawks are excited about this fall's chances of reaching the postseason once again under veteran coach Gordon Leib.
Madison opened the current season with a tough 21-14 home loss to cross-town rival Oakton last week, but the Warhawks will be looking to get into the win column when they travel to Yorktown this Friday night in Arlington.
"I think our challenge right now is to overcome our inexperience," said Leib.
The coach said the focus during training camp in August was particularly on teaching positional fundamentals because of the fact that several players were taking on new positions. He was pleased with what he saw from his team's offense during pre-season games. Defensive progress was a little slower.
<b>MADISON</b> has just three returning starters on its offensive unit and two on defense.
"Offensively, we've been moving the ball good," said Leib, prior to the team's season opener against the Cougars. "More than anything the kids are learning positioning, mainly their positioning on defense."
Will Clarkson, a senior, is back as the team's starting quarterback.
"He throws an excellent football, he's a leader and his biggest strength is accuracy [throwing] the ball," said Leib. "Expectations are greater for him [as a second year starter]."
Running backs Sacha Vandalov, a senior fullback, and junior Mike Vasic will lead a ground game which is improving by the week.
"I think our running game has been coming around pretty good," said Leib.
Other key players will include senior outside linebacker Taylor Mead, junior defensive end/offensive tackle Chris Barbeau, and senior two-way lineman (tackle) Christian Underkoffler, Madison's lone returning All-Liberty District selection from a year ago.
One of the keys to Madison's defensive success, the coach said, will be the team's play at linebacker. Along with Mead, seniors Kody Klugh and Chris Doumas will be looking to have stellar seasons running down ball carriers and helping out in pass protection.
Mead brings exceptional speed to the linebacker position.
"He's a speed guy and one of the fastest guys on the team, and he's hitting pretty good," said Leib. "He should [also] be a big threat receiving the ball [on offense]."
<b>LEIB SAID</b> his team was excited about opening the season against neighborhood rival Oakton. While the two teams are in different districts, with the Warhawks in the Liberty and Oakton in the Concorde, the schools have a long tradition of playing one another in most sports.
"It's a friendly rivalry and respectful," said Leib, of the football meetings between the two schools. "We're so close to each other [geographically], everyone knows one another. There is no animosity. They have a good coaching staff."
Coach Leib said this year's Madison team might not hit the ground running as much as last year's team, but he expects the Warhawks to be a Div. 5 playoff team by the end of the regular season.
"I think we're going to develop a little slower than last year," he said. "We should be in the playoffs. We know what [Liberty District and state champion] Stone Bridge is about, and we know Langley and Woodson have improved."
While Madison will play Yorktown this Friday, Oakton will be at home against Annandale. The Atoms, under coach Dick Adams, are coming off a convincing 49-19 week one win over McLean. The Cougars will need to slow down Annandale quarterback Cason Kynes, who threw for 153 yards and two touchdowns while rushing for 70 yards and a score in the Atoms' win over the Highlanders last Thursday night.
Meanwhile, Madison, In facing Yorktown, a perennial Div. 5 playoff team under coach Bruce Hanson, is playing a team which defeated non-Northern Region opponent Wilson High (D.C.), 27-6, in a week one game. The Patriots are led by senior running back Kyle Toulouse, who ran for 94 yards with a touchdown in his team's win.