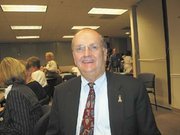 On July 1, the City Council of Fairfax appointed Ellwood "Woody" Witt as the city's representative of the Fairfax-Falls Church Community Services Board.
The CSB is a multi jurisdictional agency and public support network that partners with individuals, families and the community to support Fairfax County and Falls Church residents affected by behavioral health conditions and intellectual disabilities.
Witt is a graduate of The Ohio State University with a Bachelor Science Industrial Engineering degree. He also holds a Masters of Business Administration degree from The American University. A retired U.S. Army officer, he is currently a management consultant with Witt Consulting Services LLC and The Middlesex Group LLC. He has been a City of Fairfax resident since 1972. He and his wife, Virginia C. Witt, have a son and a daughter.
<b>How did you first get involved in the Fairfax-Falls Church Community Service Board?
</b>I provided testimony to the Fairfax County Board Supervisors and public comments to the Fairfax-Falls Church Community Service Board (FACSB) as the vice chair of the Fairfax Area Disabilities Services Board (FADSB) over the last year. Both board chairs attended the other board's meeting to jointly coordinate issues we had in common. When the vacancy came up in June 2008 for the City of Fairfax FACSB, I switched boards and am now serving a new three-year term on the FACSB.
<b>What are some specific issues that you are passionate about?
</b>Supporting individuals with any disabilities, so they can live full productive lives like all of us. I have a special interest in services for individuals with Autism Spectrum Disorder (ASD).
<b>How would you encourage other members of the community to get actively involved in serving the community?
</b>I am an unpaid volunteer, who has the time now to help our community. I would urge anyone so inclined to volunteer their services to help those most in need.
<b>What can the public do to contribute to the CSB cause?
</b>Continue to support full funding for the many critical services the FACSB provides in our area.
<b>Favorite aspect about being a part of CSB?
</b>I am excited to start on board and will initially serve the Mental Health and Fiscal committees.
<b>Any challenges?
</b>Many challenges face us, particularly tight future budgets. Also, long waiting lists for clients needing Medicaid waivers (MR and DD) in the Commonwealth of Virginia.
<b>Previous or other current service/volunteer positions besides CSB?
</b>I am a City of Fairfax Board member, Fairfax Area Disabilities Services Board (FA-DSB); 2004 to 2008. I served as the vice chair from 2007 to 2008. I was the FA-DSB representative to Fairfax County Public Schools Advisory Board for Students with Disabilities (ACSD) for the period 2007-08. I completed three years service as a member of the Fairfax Area Long Term Care Coordinating Council (LTCCC) from 2004 to 2007. Currently, I am serving on the board of the Autism Society of America, Northern Virginia Chapter (ASANV).
<b>Hobbies?
</b>Stamp collecting, golf.
<b>Favorite local restaurant or hangout?
</b>Pass on this one. The City of Fairfax is one of the best places I have ever lived in. We have many great places to dine or hang out.