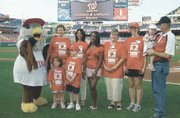 Send announcements or events, which are open to the public at no or minimal cost, to The Loudoun Connection, 7913 Westpark Drive, McLean, VA 22102 or e-mail <a href="mailto:loudoun@connectionnewspapers.com">loudoun@connectionnewspapers.com</a>. Deadline is Friday, two weeks before the event. Photos/artwork encouraged. For more information, call 703-917-6454.
On Wednesday, Aug. 6, the Loudoun County Adult Drug Treatment Court held the program's fifth graduation ceremony. Virginia Del. David E. Poisson (D-32), will address the participants and guests.
There are 19 participants in the program, one of who will graduated that day. The graduate has completed all four phases of the program and has maintained a considerable period of abstinence.
The drug court model is a specially designed docket within the existing court system that focuses on nonviolent substance abusing offenders. The court utilizes immediate sanctions and incentives to promote participant progression through the four-phase program. Participants enter the program voluntarily and are made no promises as to their probation supervision status post-graduation.
The Loudoun County Drug Court Program, implemented in June of 2004, is one of about 30 such programs in Virginia.
Army Sgt. Kevin P. McMahon, the son of Patrick and Deborah McMahon, has graduated from nine weeks of basic combat training at Fort Jackson, Columbia, S.C. McMahon graduated in 2003 from Herndon High School and received a bachelor's degree in 2007 from Virginia Polytechnic Institute And State University, Blacksburg.
Allen Monk of Leesburg has received the rank of Eagle Scout at a Court of Honor June 29. He is a member of Boy Scout Troop 1168. The son of Randall and Alex Monk recently graduated from Heritage High School and has been accepted by Brigham Young University where he plans to major in design engineering.
Boy Scout Troop 1173 of The Church of Jesus Christ of Latter-day Saints, held an Eagle Scout Court June 10, which honored seven young men who earned their Eagle rank. The Scouts are Stephen J. Allred, Stephen Bowers, Connor Calderwood, Kirby Calderwood, Nathaniel Keith Lewis, Cory Pearson and Scott Whitlock, all residents of Ashburn.
The Loudoun County Victim Witness Program honored Loudoun Sheriff's Office Investigators Tim Ortwein and Dave Canham at the 10th Annual Victim Services Awards. The awards ceremony is held each year during National Crime Victims' Rights Week and was established to honor and recognize those who have exhibited outstanding services on behalf of crime victims.
The following area Virginia Tech students were among those honored at the university's spring commencement ceremony held May 9: Trevor Anderson, Wesley Anderson, Tracey Ansell, Mary Arrowsmith, Drew Banko, Thomas Baranowski, Theodore Beck, Thomas Brown, Jon Brundage, Justin Chaney, Michael Choate, Brian Colleran, Joseph Kendall, Joseph Kendall, Andrew Landsberg, Matthew Martin, Nicholas Nelson, David Rariden, Ryan Rohr, Bryan Schamus, Marshall Sewell, Matthew Streeter, John Walker, Suzanne Watkins, Colleen Webster, Zhen Wei, Laura Wen, Syed Owais Younus, Nicholas DeRosa, Mary Le, Umar Aziz, Joseph Corcoran, Chelsea Feist, Jenna Griffin, Andrew Harclerode, Christopher Hutchens, Julia Kalriess, Rebecca Layman, Patrick Summers, Daniel Troha, Briana Valentino, Victoria Athey, Stephanie DiPinto and Patrick Donohoe.
The Loudoun affiliate of Habitat International recently
elected its new board members, increasing the board from 18 to 20 members, and electing a new executive board. The newly elected president, Alta Jones, previously served as board's vice president and also currently heads
the finance committee. Jones has held executive positions in the financial services industry and is currently a business consultant partner with Hilltop Advisors. She also serves on the Virginia state Habitat board.
Joining Jones on the executive committee are Tom Grannas, vice president and a partner with Charron Consulting; George Rose, treasurer and founder of Land Design Financials; Dave Boyd, secretary, member of the Loudoun's Housing Advisory Board and director of BNI Northern Virginia; Pamela McGraw, family selection chair, nonprofit representative for Loudoun's Affordable Dwelling Unit Advisory Board and employed by IDI Group Companies and Bud Green, head of construction and past LHFH president.
Virginia Tech's Marion duPont Scott Equine Medical Center has named Kate Lee as public relations coordinator.
In her new role, Lee will develop and implement strategies for increasing the center's visibility and enhancing its public image. As a member of the Virginia-Maryland Regional College of Veterinary Medicine's public relations team, Lee will be responsible for leading external and internal public relations efforts for the Marion duPont Scott Equine Medical Center.
Lee joins the center with a background in communications; previously she served as public relations director at a hospital in Southern California, advertising manager at a helicopter manufacturer and most recently, she was the assistant editor of an international arts magazine. She moved to Virginia six years ago and lives with her family in Leesburg.
Air Force Airman Bernard A. Moss has graduated from basic military training at Lackland Air Force Base, San Antonio, Texas.
During the six weeks of training, the airman studied the Air Force mission, organization, and military customs and courtesies; performed drill and ceremony marches, and received physical training, rifle marksmanship, field training exercises, and special training in human relations.
In addition, airmen who complete basic training earn credits toward an associate in applied science degree through the Community College of the Air Force.
Moss earned distinction as an honor graduate. He is the brother of Chana Johnson of Silverbell Terrace N.E., Leesburg, and Reva Flores of Raymond Ave., Pawtucket, R.I.
Gov. Timothy Kaine recently appointed three new members and reappointed one member to the Virginia Tech Board of Visitors for terms running through June 30, 2012.
The new appointees, whose first board meetings were Aug. 24-25, were Frederick Cobb of Richmond, Douglas Fahl of Leesburg, and Calvin Jamison of Richardson, Texas.
More like this story