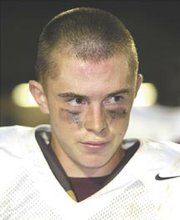 With a pair of wins under its belt, the Broad Run High football team entered its early season bye week with a perfect 2-0 record.
The Spartans, last year's Dulles District champions, won their first two games over host Wakefield High of Arlington and at home against Ballou High (Wash., D.C.). The home victory came by a decisive score of 54-14.
"So far, we're very pleased with our defense," said Broad Run head coach Mike Burnett. "I think our defensive play has been consistent and good. [Offensively] we improved a lot from week one to week two. Against Wakefield, we thought we were a little bit sloppy."
The Spartans have received solid play thus far from senior quarterback Chris Jessop, who runs Broad Run's spread offense (one running back, four wideouts) attack. In the win over Ballou, Jessop, playing in just the first half because of the lopsided score, rushed for over 100 yards and two touchdowns, and also tossed a pair a touchdown passes.
"Chris has been terrific," said Burnett. "He's really a great all-around athlete, that's the biggest thing. He's a threat running the ball and he can throw the ball as well as anyone we've had."
Senior running back Breon Earl, one of the Dulles' District's top playmakers last year, has a little bit of a different role this season. As the Spartans' tailback a year ago out of the team's then-I formation scheme, Earl was more of a traditional runner. This year, Burnett, by using the spread offense, is utilizing Earl more as both a back and a pass receiver. He likely will not get as many carries this season as he did a year ago. That will save him from the wear and tear and hopefully keep him fresh all season. Through Broad Run's first two games, Earl carried the ball only 14 times for 150 yards total.
"He has been great," said Burnett. "He's really been a big player for us. He's such an explosive runner. This year, he's playing in the slot and able to get into pass routes. It's a much better situation."
<b>THE COACH</b> said the pre-district schedule has given the Spartans a chance to develop an identity as they get ready for the upcoming district schedule. The team, following last weekend's bye, was scheduled to play another non-district game against Brentsville District (Nokesville) this Friday night at home. Then, the following week, the Spartans will open up district play with a home game against Briar Woods. The Falcons, like Broad Run, are coming off a 2007 season in which they qualified for the Region II playoffs.
"At this stage of the season, the pre-district games are to kind of see where we're at," said Burnett. "Right now we're very happy. The kids are playing hard and aggressively and not taking any team lightly."
Broad Run's defense is led by senior middle linebacker Kenny McAdow, a Second Team All-State selection last year as a junior.
"In many ways, he's the heart of the team," said Burnett. "He's a tireless worker."
Another important leader on the Spartans' team is senior center/defensive end Sean Lewis. A year ago, Lewis was an All-District player at the center position. And he is spear-heading the offensive line's charge again this season.
Following a 2007 season in which Broad Run went a perfect 10-0 during the regular season, the Spartans are looking for another big time successful campaign in '08. And the Spartans are off to a nice start. They are a hungry team as a result of a season-ending, first round Region II playoff loss to area and district rival Park View last year.
"Their expectations are very high coming off of last year's success," said Burnett, of his squad. "We had a taste of winning and the playoffs. Their expectations are to go deeper in the playoffs."