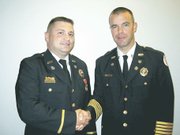 Brian Hricik, an 11-year veteran of the Alexandria Fire Department was awarded the 2008 "Firefighter of the Year Award" from the George Washington Chapter of the Sons of the American Revolution during a ceremony at Belle Haven Country Club on Saturday, Sept. 13.
In naming Hricik, the department's Interim EMS Operations Manager, the organization noted he "has been an invaluable asset to the Alexandria Fire Department throughout the past year." During that time he temporarily assumed many responsibilities of the Assistant Chief of Emergency Medical Services, following the retirement of Assistant Chief Vince Whitmore in January 2008.
During his interim assignment, Hricik worked with regional response partners to develop a Mass Casualty Incident Manual to assist in a coordinated response to any incident involving multiple patients and expanded the formal Medical Director program to include an Associate Medical Director.
He also worked with Inova Alexandria Hospital to develop a program to recognize heart attacks in the field and relay that information, through telemetry, to the hospital. For his expertise, Hricik was named a regional faculty member for the American Heart Association.
In presenting Hricik with the award, Alexandria Fire Chief Adam Thiel noted, "Brian Hricik has performed to the highest standards of excellence, and epitomizes selfless service across the board. His attitude, dedication, and enthusiasm are second-to-none."
More like this story