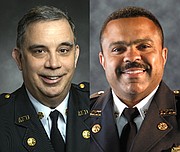 With the retirement of Alexandria Fire Chief Robert C. Dubé effective July 3, City Manager Mark B. Jinks has appointed Assistant Fire Chief of Administration Corey A. Smedley as acting fire chief.
"I thank Chief Dubé for his many contributions at the helm of the Alexandria Fire Department," said Jinks. "His accomplishments have provided critical support for Alexandria's firefighters and EMS providers, helping them protect our community and its excellent quality of life. We wish him all the best for a well-earned retirement."
"It has been one of the honors of my professional career to lead this great department and its dedicated members," said Dubé. "I thank them for the amazing work they do every day to help keep our community safe, and I am confident that our current leadership and passionate team of firefighters and EMS providers will continue this department's proud 153-year tradition of service."
Dubé, a 40-year veteran of the fire service, joined the city in 2014. During his tenure, the Fire Department established a comprehensive Health, Safety & Risk Management unit; obtained more than $5 million in grant funding to help provide paramedic and special operations training, and four-person staffing; implemented the fire/medic program and developed paramedic engine companies; placed a dedicated heavy rescue service company in service for the first time; and designed and purchased custom ladder trucks, engines, and heavy rescue and hazardous materials response units designed for operations in an urban environment.
Smedley, who joined the city in 2015, previously served as deputy fire chief of Emergency Management and Homeland Security. As deputy chief, he worked with local and regional partners to develop the city's Emergency Operations Plan and Threats and Hazard Identification and Risk Assessment Plan. He was responsible for initiating the city's new Emergency Operations Center, which was activated for the first time in May 2019. He has worked with various state, regional and local agencies to provide training for the city's public safety personnel and staff in other departments. He was promoted to assistant fire chief of Administration in January 2019.
Prior to Alexandria, Smedley served as the deputy chief of the Prince George's County (Md.) Fire/EMS Department responsible for administrative services and budget. He began his career with the department in 1995 as a firefighter.
"Chief Smedley's extensive experience and dedication to the fire service, emergency management, and working with our regional partners has been an asset to the City," said Jinks. "His expertise makes him well suited to lead the Fire Department as acting chief during this interim period."
Smedley holds a bachelor's degree in mass media from the University of the District of Columbia and a master's degree in management from Johns Hopkins University. He is a Nationally Registered Paramedic and a fire inspector, instructor and investigator. He has also earned the Certified Public Manager credential from The George Washington University.