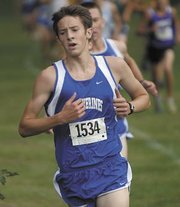 The West Potomac High boys' cross country team put together a respectable showing at last Saturday's Fourth Annual Oatlands Invitational showcase event. The fall midseason extravaganza, which took place on the 5K Oatlands course in Leesburg, is considered to be one of the largest high school cross country events on the East Coast. There were 101 schools represented at the Invitational, including teams from Pennsylvania, North Carolina and Colorado.
The West Potomac boys finished 22nd overall among 48 teams in the elite varsity boys' `A' race. The Wolverines' top finisher was junior Peter Stebbins (99th overall in a field of 325 runners). The next three Wolverines to cross the finish line were sophomore Khoki Bernier, senior Ben Hammond and sophomore Graham Kolle. Other team contributors included seniors Brendan Murphy, Alex Triplett and Max Kreis.
Earlier last week at the Monroe Parker Invitational, held on Sept. 16 at Burke Lake Park, West Potomac finished fifth overall among 24 boys' teams. Bernier led the Wolverines with a 19th place overall finish in that race, earning him a top 25 medal.
Meanwhile, the West Potomac girls finished second overall at the Monroe event. The Wolverines scored 108 points, finishing behind champion Lake Braddock (51), but ahead of third place West Springfield (112), fourth place Langley (127) and fifth place T.C. Williams (172).
Earning medals for the Wolverines were Kelsey Rosenberg (7th overall) and Julianne Bigler (ninth). Dale Lescher finished a strong 26th overall for West Potomac.
Both the Mount Vernon High boys' and girls' teams competed at the Monroe Parker event. The Majors' top girls' finisher was Hylene Valdez (41st overall).