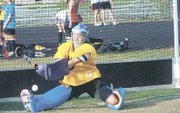 After winning a Northern Region title in 2006, the Westfield field hockey team had secured its spot on top of the proverbial mountain. However, as the Bulldogs stumbled to an 8-8-1 record in 2007, that viewpoint started to seem further and further away.
With a heap of returning starters from that region championship team, Westfield's senior class had endured the best of times and the worst of times. Go ahead, cue Charles Dickens.
"Last year we would blame each other and those are never the right people to blame," said senior Maddy Curry, who has three goals and a team-best four assists. "We learned this year to come together as a team, and we're really playing well together."
Winning tends do to that. The Bulldogs have raced out to a 12-1 start, their only loss coming to defending region champion Woodson on Sept. 10. Other quality wins on the Bulldogs' résumé include victories over area powers Langley, South County, Oakton and Centreville.
"These girls, in the past couple years, have had a taste of where they want to be," said Towle, whose team squared off with Fairfax on Wednesday night, which ended after Centre View went to press. "After not living up to our expectations last year, I think this group of girls has worked really hard in the offseason and I think that we've come out with those expectations in mind."
With eight seniors on this year's team, Towle made a concerted effort this season to get back to some of what worked in 2006. Towle's team possesses a deadly combination of speed and skill, and the coach wanted to see both of those traits translate into more aggressive play.
Those loose balls inside the circle, Towle wanted her players to get to them. Those pass-or-shoot situations, Towle preferred the latter rather than the former.
"Last year we weren't running to the ball as much, and this year coach wants us to be more aggressive and go to the ball," said senior Kayla German, who has four goals and four assists this season. "This year we're able to finish our plays."
<b>TOWLE CREDITED</b> various players for their work in producing a more aggressive and effective offense, namely junior Molly Gift (2 goals, 3 assists) for her ability to initiate a scoring opportunity, as well as sophomores Blair Duncan (5 goals) and Annie Martello (5 goals) for their natural inclination to put the ball on goal.
"Some kids just shy away from the ball or they're just not naturally competitive or aggressive," Towle said. "I think all of those things come together when you're trying to put together a team, and I think you have to have that as a forward mentality — to be the last one to take the shot. I don't think you can teach that."
Surprisingly, the team's aggressiveness hasn't been limited to its offensive work. Westfield's defense has been as stout as ever, a credit to juniors Kelsey Grainer and Stephanie Poppe, the team's center back and sweeper, respectively, as well as the team's right back, junior Ally McGovern.
Still, true to Towle's team-first philosophy, the fact that Westfield has recorded shutouts in seven wins these season and hadn't allowed a goal through the past four games was not only attributable to the team's defense and its standout goalkeeper.
"It's not just those four defenders and your goalie. It's your whole team," Towle said. "Everybody should be able to celebrate when you score, and it's everybody's responsibility if we get scored on."
According to that standout goalkeeper, senior Nicole Ficarra, communication has also been an integral part of her team's all-around aggressiveness.
"With my defense, I do a lot of talking … probably more than I do saving," Ficarra said. "I need them to be aggressive. I love when people go out there and they don't care whether or not they break a nail, or they break their finger. They're [playing aggressive] because they want to compete to the best of their ability."