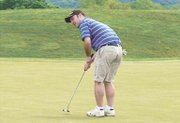 Spring fever is in the air and local golf enthusiasts are dusting off their clubs and preparing to hit the local links. For Dominion High School enthusiasts, the opening of the golf season has come to have an extra special measure of meaning because of an annual event — the Dominion Classic — that benefits the Sterling school's athletics and activities programs.
"It's a good tournament, a good time and it's for a good cause," said Eric Holmberg, the creator and past chairman of the Classic.
This year's golf outing, the fourth annual, will be held on Wednesday, April 22 at Lowes Island Club in Potomac Falls. The two, 18-hole courses (par 72) at the private course facility stretch along the banks of the Potomac River. The shotgun start will begin at 9:30 a.m. and the day's golfing will run through about 4. There will be special prizes, including the potential of claiming a car in a hole-in-one contest. Other prizes will include a TV set and golf clubs.
A grilled lunch will be enjoyed at the halfway point of the event at the No. 10 hole and a post-event reception, with raffles and prizes, will take place afterwards. It will be a day of golfing fun, camaraderie and laid back competition.
"It's more about golfing and having a good time," said this year's event chairman, Dave Ledwell. "It's all for fun and bragging rights. There are small prizes for the winners."
The event's yearly theme is "benefiting each and every Titan at Dominion High School." Local businesses, families and individuals come together to sponsor the extravaganza with 100 percent of the proceeds going to ATLAS (Association of Titan Leaders Assisting Students), a non-profit organization dedicated to supporting Dominion students and the school as a whole. ATLAS was created six years ago when Dominion first opened.
ATLAS uses the funds brought in from the Classic for everything from helping the school band upgrade its uniforms and instruments, to making sure the football team has the right kind of cleats, to giving a boost to chess club activities. The Classic is one of the school's biggest yearly benefit events.
<b>"ALL PROCEEDS</b> go into the school for programs of all sorts," said Laurie Bush, the event's public relations liaison. "I enjoy working with the parents and the community, and I enjoy the incredible results for our students."
Dominion High Principal John Brewer, in a letter thanking sponsors on the event web page at teeupfortitans.com, expressed his sentiments regarding the importance of school activities for students.
"At the heart of our vision [as a school] is a commitment to meaningfully engage each and every Dominion student in school activities," wrote Brewer. "Significant resources are required in order to implement our plan for accomplishing this noble purpose. The Dominion Classic represents one of the most significant annual fund raisers toward the provision of these resources. All proceeds generated from this annual event are invested directly into the instructional and extra-curricular programs of Dominion High School and thus, benefit a wide range of activities and engage a broad spectrum of students. … The enthusiastic efforts of Dave Ledwell and the Tournament Committee have been met by a highly supportive and professional contribution by Bob Fikac and the Lowes Island Club. Our ongoing partnership with the staff at The Club makes The Classic the premier event that it is. "
<b>THE CLASSIC</b> was Holmberg's brainstorm several years ago. A Dominion parent, he has been and remains dedicated to supporting the Loudoun County schools' student programs.
"He and a couple of others wanted to do something to help the school, so he ran [The Classic] the first few years," said Ledwell, of his friend.
In his business ties, Holmberg has been involved in numerous golf charity events over the years and believed golf would be an excellent avenue to boost Dominion activities.
"The idea was to raise as much money as possible in one swoop," he said.
Holmberg admittedly tried to do too much of the work himself for the Classic's first event in May of 2006. He made it his mission to set up the event's logistics and to get word out across the community seeking sponsorships. That first year's event was a success with 45 individuals participating.
"Everyone had a good time," said Holmberg, of that initial Classic. "We had a little rain. But just about everybody who played that first year came back the second year."
Holmberg said he learned from his first year running the event to better utilize those who were willing to help him out.
"I tried to do everything myself and that was a mistake," said Holmberg, the Classic chairman its first two years. "Since then, we've had lots of volunteers."
A Classic committee was formed for the preparations for the second year in '07.
"It was a good committee and we really beat the drums for sponsors and golfers," said Holmberg.
Ledwell took over the chairman role for last year's event which attracted 80-plus players. He is thankful for his 12-member committee and the other volunteers who help drive the event and make it a success.
"There's a lot to this," said Ledwell. "I have lots of volunteers and everybody does a real good job."
<b>RAISING SPONSORSHIPS</b> for the upcoming Classic has been more difficult than last year because of the tight economy.
"But we're getting sponsorships every day," said Ledwell. "A lot of people continue to step up and we're grateful for that."
Ledwell and his fellow event volunteers are also grateful for Lowes Island for allowing Dominion to use its course for the annual springtime golf outing. Lowes Island, the home course for Dominion High's fall season golf team, has been extremely accommodating in being the host course of the Classic, Ledwell said.
"They really go out of their way to make it happen for us," he said. "They have always been a great venue for us."
Bush said there is a sense of excitement and enthusiasm on the morning of each year's Classic as players gather to begin the day of golfing.
"Everyone gathers in the morning for registration and there is a putting contest," she said. "The Lowes Island Club is so gorgeous, it's just beautiful."
Holmberg believes the Classic has a bright future for many years to come.
"We want to make sure this is institutionalized as an annual event for Dominion," he said. "It's been our baby."
To learn more about the Classic and for information on becoming a sponsor, go to teeupfortitans.com.