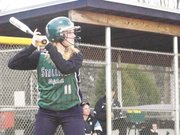 Perhaps the only thing as practiced as Stephanie Sbardella's swing may be her penmanship. After each of the collegiate softball camps that Sbardella, a junior third baseman at South County, attends, she has made it a point to draft her own personal thank-you letter to that school's coach.
In the past two years, Paul Sbardella, Stephanie's father, can count on one hand how many times the family has stayed home for the weekend, instead of electing to attend some sort of camp or clinic, which the Sbardellas believe are imperative for Stephanie's recruitment as a college athlete.
During one particular weekend this past winter, the Sbardellas left Lorton on a Friday morning and drove to the University of North Carolina at Pembroke — roughly 350 miles away -- for a camp. Later that day, they drove 167 miles to Charlestown, S.C. and stayed the night.
The next day, Stephanie Sbardella attended Charleston Southern University's camp from 10 a.m. until 5 p.m. and then hopped back in the car for a 10-hour drive to the University of Delaware, which was Sunday's destination, again for a camp.
"It's something that she's really interested in," Paul Sbardella said. "I'm just there to support her. … But it is a lot of driving."
Paul Sbardella estimates that he's spent between $7,000-$10,000 on travel expenses and fees associated with all of the camps, clinics and competitive tournaments that his daughter attended during the past year.
<b>Recruit Me: Other Articles in This Series</b>
<a href="http://connectionnewspapers.com/article.asp?article=327550&paper=73&cat=105">Ashley Abed's Second Chance</a>
<a href="http://connectionnewspapers.com/article.asp?article=327553&paper=68&cat=105">Making It as a Walk-on</a>
<a href="http://connectionnewspapers.com/article.asp?article=327548&paper=71&cat=105">Price Finds Happy Valley</a>
<a href="http://connectionnewspapers.com/article.asp?article=327555&paper=82&cat=105">Keeping a Perspective</a>
<a href="http://connectionnewspapers.com/article.asp?article=327554&paper=63&cat=105">Stanton Covers All Angles</a>
<a href="http://connectionnewspapers.com/article.asp?article=327556&paper=81&cat=105">Road Trip With the Sbardellas</a>
<a href="http://connectionnewspapers.com/article.asp?article=327551&paper=59&cat=105">Zare's Video Evidence</a>
<a href="http://connectionnewspapers.com/article.asp?article=327557&paper=69&cat=105">Friends of Recruitment</a>
<a href="http://connectionnewspapers.com/article.asp?article=327549&paper=80&cat=105">Alternative Views</a>