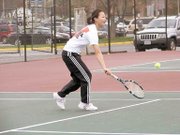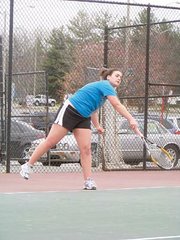 Paul Fisher has accomplished plenty during his 16-plus years as a tennis coach at Robinson. In 15 of those seasons, Fisher's boys' team won its district title. The Rams currently have a record of 53-0 against Concorde District opponents over the past 4 1/2 years, not to mention the fact that they've claimed the past three Virginia AAA state crowns.
The one thing, however, that Fisher has not been able to accomplish is to split himself in half. While cultivating a tennis legacy at Robinson, Fisher has always served double duty, coaching both the boys' and girls' teams at the same time -- a rarity, to be sure.
Not only did the schedule force a decision for Fisher on match days, as the two squads typically played at opposite locations, but it also meant that he had twice as many serves to watch during practice, twice as many mistakes to correct.
This spring, Fisher has relinquished primary responsibility of the girls' team, allowing first-year Jeff Jones to assume the reins there. Jones played No. 1 singles at Lake Braddock during the mid-1990s and welcomed the opportunity to work with Fischer.
"I've known Paul since I was a little kid, and he's obviously built a huge tennis reputation over here," said Jones, who went on to play collegiate tennis at Christopher Newport and George Mason. "To become a part of that and to have him want me to become part of that was definitely an honor."
"With two teams in the spring, I didn't feel that the girls were getting the attention they needed," Fisher said. "So I felt like I had to give it up. Jeff is an outstanding young coach, and we had the chance to get him so we went after him."
While Fisher's new job may be a bit more glamorous, with the boys' team against one of the state's strongest, Jones didn't exactly inherit a bare cupboard. The girls' team has more-than-capable singles players at the first four slots should figure to make noise in the Concorde District, where Robinson has jumped out to a 5-0 start.
<b>ALL ALONG,</b> Robinson was one of the few, if not the only, job that Jones was willing to consider, putting him at a place where the popularity of tennis rivals that of other high-profile sports, thanks in large part to the prolific career of three-time state singles champion Drew Courtney, who graduated last spring.
Having coached the girls' team, the boys' team or both at Lake Braddock from 1996 through 2001, Jones spent last spring as an assistant with Centreville, near where he serves as a middle school teacher at Liberty Middle School in Clifton.
With the new gig, Jones doesn't expect a whole lot to change from the hard-nosed approach used during his time spent at both Lake Braddock and Centreville.
"When I was the head coach at Lake Braddock, I had the same type of fire to try and get the girls to want to compete and want to come out and fight," Jones said. "At least I hope that I'm bringing that same type of thing over here to Robinson."
Dawn Xiang, the team's No. 1 singles player, admits that while the two coaching styles may differ, with Fisher taking a much more relaxed approach and Jones just the opposite, both have been successful, too.
"It's been a little bit of a change because their coaching methods are different," Xiang said. "They're still very effective, and it's not too big of a change where we didn't get used to it. It was just really easy to fall into."
In five matches thus far, Robinson has outscored its opponents, 40-5, building a 27-3 record in singles play. In addition, Xiang has been every bit the player that Jones was expecting, amassing a 5-0 record while playing against her opposition's top player. At the No. 2 spot, Kaitlin Kallini, despite one slip up, is 4-1, while at No. 3 and No. 4 singles, Nicole Furst and Monica Ghadiyaram have combined to go 10-0 so far this spring.
"They're solid," said Fisher, whose girls' team last won a district title in 2005. "I think they'll surprise some people this year."