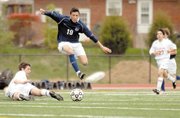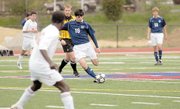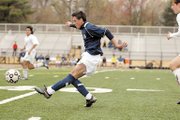 With about 15 minutes remaining in Monday night's soccer match between Washington-Lee and T.C. Williams, the Generals' Erjon Bezhani received a well-executed centering pass, whirled around and fired at Titan goalie Matthew Crawley. The keeper made the save with surprising ease.
Less than two minutes later, junior Wilber Montiel's point blank shot went wide. Bezhani followed up his teammate with two more scoring chances three minutes after that, all of which resulted in nothing on the scoreboard.
It was a familiar refrain for the W-L soccer team as it fell to T.C. Williams, 2-0, in a game it dominated large portions of, but left with nothing to show for their efforts.
"We're just not finishing some of our opportunities," said W-L coach Jimmy Carrasquillo, whose team dropped to 2-5-1 this season. "We're kind of on the hunt, but when you need to go in for the kill, it's not there yet."
The Titans' Conor Boyle scored in the first half off a long throw in from sophomore Nazzareno Spurrio. Then, T.C. Williams junior Kevin Perreira sealed the deal late in the second half with a beautiful David Beckham-esque curling free kick.
Part of the problem for the Generals has been injuries. W-L lost sophomore forward Carlos Dellagostino, a player Carrasquillo expected to lead the team in scoring, to an injury during their first game of the year against Westfield.
Last week's spring break didn't help either, as Carrasquillo was left with only 10 players due to the vacation. It broke up whatever rhythm the team had after winning two straight heading into the break.
"You look at the scoreboard and it says 2-0, you say that team outplayed us, W-L didn't do anything," said Carrasquillo. "You wouldn't have seen that in the last 10 minutes we had four scoring chances, balls coming across the net."
<b>OVER AT WAKEFIELD</b>, people are beginning to turn their attention to the Warrior boys' soccer team, which has cemented itself as a Northern Region contender having gotten off to a 7-0-1 start to the season.
Coach Fernando Castro attributes the early success to his collection of 14 seniors, who he says are on a mission after watching a 2-0 lead against eventual Northern Region runner-up Robinson evaporate in the regional tournament a year ago. The Rams ended up winning on penalty kicks.
"Basically, we are bringing everything we didn't get last year," said Castro as his team prepares to face district foes Falls Church and Mount Vernon this week. "We're working together and everybody is highly motivated and very conscious of getting something in the future."
Led up top by juniors Jose Gonzalez and Mohamed Jawara and in the midfield by seniors Cristian Castro and Roderick Kinkoko, the Warriors balanced attack has outscored the opposition 24-10 this season, including a 5-0 thumping of Yorktown before spring break.
"This is in particular something special because the kids came together over the last few years," said Castro.
<b>PERHAPS THE BIGGEST</b> darkhorse in the area is Yorktown, which was expected to be better than its current 1-3-3 record. With last year's Northern Region Player of the Year and George Mason-bound Alex Herrera returning for his senior season, expectations were predictably high in the preseason.
But in the Patriots' first scrimmage this spring, Herrera sprained his ankle, forcing him to miss the team's first five games of the season. When he returned for a March 31 game against district title contender Edison, Herrera promptly picked up a red card 10 minutes in, sending him to the sidelines for the rest of that game as well as a good portion of the team's next match with Wakefield. Yorktown was outscored by a combined 9-0 in those games.
The silver lining is that judging the Patriots by their current record would be a mistake considering they haven't competed more than a few minutes with the area's best player on the field. With 14 players gone from last year's squad, it has made cohesiveness an issue. But with Herrera back in the fold for the last month of the season, Yorktown coach David Wood knows anything is possible.
"We've had chances, we just couldn't score many goals," said Wood, whose team has netted just five goals in seven games this year. "But I think we have plenty of talent to do well and make a run."