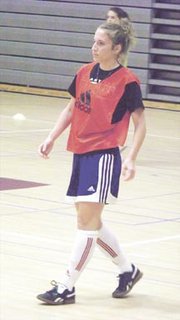 Chantilly senior Cortlyn Bristol gave a literal meaning to the soccer term "header" without even knowing she did so. During a 1-0 win over Langley on Friday, March 20, Bristol went up to try and head a ball, the sort of 50-50 ball that she, as a midfielder, expects to control.
Unaware that one of her teammates was trying to do the same thing, Bristol jumped and her head made contact with the ball. The unfortunate part, though, was that another head -- that of the teammate -- made contact with Bristol's.
"It wasn't even the opposite team," Bristol joked. "It was awful."
But she felt fine. So Bristol, who had never missed a start during a prolific career that has resulted in a soccer scholarship to William & Mary, played on. She finished the game and even played five more with her club team, FC Virginia, that weekend.
The next week, she started to experience a series of headaches after a 1-1 tie with South County on Tuesday, headaches that Bristol, while sitting inside an office next Chantilly's gymnasium Monday afternoon, insisted were more subtle and oddly located toward the top of her head.
Shortly after the South County game, Bristol, who had 12 goals and five assists last year en route to earning first team All-Concorde District and All-Northern Region honors, was diagnosed with a mild concussion and missed the Chargers' 2-0 win over Herndon on March 30.
"It was the worst thing in my whole life," Bristol said.
The headaches soon subsided and Bristol returned to practice later that week. And as part of a typical warm-up drill, Bristol made sure the concussion, which she now speaks comically, was officially behind her.
"My first practice back, I think I made 20 head balls," said Bristol, who despite the concussion has nine goals and three assists this spring. "I was like, 'My head doesn't hurt, I swear.' I was trying to prove it to anyone. We played a silly game where someone would throw balls in the air, and I would just make sure that I got my head on it."
<b>IF BRISTOL'S</b> concussion was the extent of Chantilly's injury woes this season, that'd likely be just fine with second-year coach Melissa Bibbee, who moved over to the school and took a teaching job there after a 10-year stint at Langley.
But in addition to Bristol, freshman Lauren Yates suffered a concussion during that South County game, as did senior Morgan Schack, a Bluefield College-signee; Yates has since returned but Schack has missed more than four weeks and now has a neurologist appointment.
To add, well, injury to injury, James Madison-bound midfielder Katie Menzie has been dealing with a variety of calf problems, with both tending to cramp up toward the end of games. Even with the injuries, Chantilly re-loaded thanks to a talented class of freshmen that now boasts three starters.
"It's part of playing sports," Bibbee said, "We have enough depth so that we can fill in for them. It's been really important. The girls get along very well. They have a year of learning together. The freshmen have picked things up really easily, and they're now contributing."
Despite a 2-0 setback at defending Virginia AAA state champion Robinson last Friday, Chantilly has an impressive 6-1-1 record. The team had a chance to improve that number on Wednesday afternoon with a match against Westfield, which ended after this edition went to press.
Menzie, who has four goals and three assists so far this season, joked about getting a "nice knee to the quad" during that Robinson loss. But she was pleased overall with how the team played, enough so that the Chargers feel that they're ready should a rematch with the Rams present itself.
"If everyone's healthy," Menzie said, "I think we'll have a good shot of beating them the next time we play them."