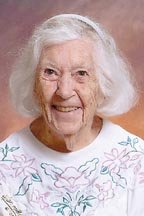 Margaret Finn Shetley died on Maundy Thursday, 2009 at the Sunrise Assisted Living Facility in Alexandria. She was the oldest member of Grace Church at 103.
She was born in Shamokin, Penn., a coal-mining town in the center of the state. Some of her relatives worked in the mines; it is known that her grandfather suffered from black lung disease. When she was in her early teens her family moved to Philadelphia, where she graduated from The William Penn High School for Girls in 1924. Following graduation, she worked for the Penn Mutual Insurance Company. She married Russell Shetley, an insurance specialist, in 1932. During World War II, her husband was recruited by the U.S. Navy for his insurance expertise. In 1943 they moved to Arlington, where her husband, now a Commander, developed and implemented an insurance program tailored to the needs of the Navy. They were the first people to live in the South Fairlington housing complex, which was under development at that time.
Margaret's husband died in 1962. In 1970 she met Clair Penrod, a widower. They became inseparable companions and traveled all over the world in senior groups — Europe, Australia, Tahiti, Arctic Circle, etc. They attended numerous concerts, National Geographic lectures, and genealogy seminars. Clair's family became Margaret's "extended" family. In 1990 Clair suffered a stroke while undergoing heart surgery, and was left partially incapacitated; he went to Texas to live with a son and his family. Margaret continued to travel occasionally with one or the other of her daughters or to visit Clair. It was on one of these trips in 1993 that she exhibited the first signs of dementia. Soon after that, she moved in with her younger daughter, who took care of her for 13 years. In August 2006 she entered Sunrise of Alexandria.
Margaret will be best remembered by her family for her quiet determination and support. Although she was afraid of the water, she took her young daughters into the ocean on frequent trips to the seashore. She took her daughters regularly to Sunday school and church. She encouraged her younger daughter's interest in music by taking her to frequent concerts. She was a Girl Scout leader and PTA member. She chaperoned her younger daughter's high school trip to France.
Margaret was exceptionally talented and prolific in arts and crafts activities — crocheting, needlepoint, cross-stitch and china painting. She sewed all kinds of clothing, including coats, aprons, doll outfits, a bridesmaid's dress and a lot of her own clothes. She creatively decorated cakes for birthdays and other occasions. As she grew older, she became active in numerous senior citizen clubs — Swingin' Sixties, Silver Age Club, #1 Club, Grandmother's Club, and UMC Evergreens.
Margaret is survived by her two daughters, Barbara Chapline and Margaret Freeman; five grandchildren, Robert, Jeffrey and Douglas Chapline, Barbara and Gregory Freeman; seven great-grandchildren and three great-great-grandchildren.
A memorial service will be held at Grace Presbyterian Church, Springfield, Va. on Sunday, April 26 at 12:30 p.m. Contributions may be made to Allzheimer's Disease Research, 22512 Gateway Center Dr., Clarksburg, MD 20871 or to Capital Hospice, 6565 Arlington Blvd., Suite 500, Falls Church, VA 22042