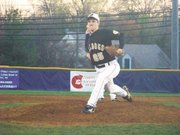 Westfield's baseball team spent 23 games last season forming its reputation as one of the Northern Region's premier offensive clubs. With twins Matt and Mike Snyder -- now at the University of Mississippi -- the Bulldogs could often sit back and wait for the three-run homer to occur.
Through the first 12 games of the 2009 season, Westfield has been every bit as prolific offensively, scoring about a third of a run more than last season while allowing more than two runs less per contest.
And it took only 86 minutes last Friday night in a battle of undefeated Concorde District teams at Chantilly High School to demonstrate that point. Westfield smacked two home runs and junior Danny Thorpe pitched complete-game gem, helping his team to a 3-0 win over the Chargers.
"Timing is everything, I guess," said Westfield coach Chuck Welch, whose team was 11-1 this season entering Wednesday night's home game against Oakton, which ended too late for this edition. With a career record of 299-216 in 26 years as a head coach in Fairfax County, Welch will be trying for win No. 300 against the Cougars.
While professing that Westfield still hasn't scored as many runs as it would like this season, Welch been pleased with the completeness of his team. In addition to a strong pitching staff, the Bulldogs boast a ton more team speed than last year and a much-improved defense, too.
<b>EVEN THOUGH</b> credit for the win over Chantilly, who fell to 10-3 overall, 4-1 against Concorde District foes with the loss, can be spread around rather easily, most of it fell on the shoulders of Thorpe, who needed an astonishing 67 pitches -- 45 strikes -- to toss a two-hit shutout.
While not exactly capable of throwing the ball through a brick wall, Thorpe mixed his speeds and threw his slider, changeup and fastball -- in that order, pretty much -- for strikes. Better yet, to the 23 batters he faced, Thorpe threw a first-pitch strike to 15 of them.
"I felt really comfortable out there," said Thorpe, a true sidearm pitcher who releases the ball with his right arm slight below parallel with the ground. "Getting ahead really helps, and then I was able to mix off-speed and fastballs for strikes."
Of the 21 outs Thorpe recorded, eight came via strikeout, five on ground balls to the pitcher, two on flyouts to the outfield, five on ground balls to the infield and one was a lineout to third. Thorpe didn't walk a batter.
"I don't think we were mentally ready to play," Chantilly coach Kevin Ford said. "Hopefully our guys will bounce back from this and understand that we need to come with a little tougher mentality and be able to adjust from at-bat to at-bat."
<b>WILLIAMS HIT</b> .419 last spring but missed half of the year with a torn anterior cruciate ligament. Now healthy, he's been an offensive force in the middle of Westfield's lineup. And on Friday, he crushed a solo homer in the second inning off of Chantilly starter John Colella to give Westfield a 1-0 lead. Kevin Reardon made it 3-0 with his two-run shot in the fourth.
"We've been working really hard at being aggressive, so I just wanted to go up swinging at whatever's close," said Williams, whose shot over the center field wall -- just above the 378-foot sign -- came on a first-pitch fastball. "It was a close pitch, and I got lucky."
Westfield, as a whole, has been more dominant than lucky thus far. In the first game of the season, the Bulldogs traveled to Prince William County and handed Forest Park a 10-0 loss, with Thorpe, freshman Kyle Corwin and Williams combining to toss the school's first-ever perfect game.
A week later, Westfield earned a 15-2 blowout win over Oakton -- a Northern Region semifinalist last spring. Add in a perfect first half against district opponents, and it's rather easy to understand the optimism off of Stonecroft Boulevard.
"It's a team game, and you can't just rely on one or two people all the time," Welch said. "I think that's what you saw [last Friday]."