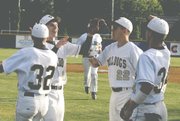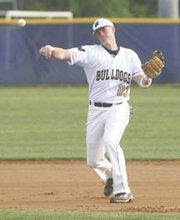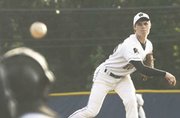 The three-hopper made its way toward Westfield first baseman Aaron Hoover, who slid to his right and dropped his glove to the dirt. But the baseball Hoover was tracking didn't cooperate. It kicked once off of his mitt, and Hoover, finally, made a last-ditch toss to pitcher Danny Thorpe.
The runner, Robinson's Michael Del Buono, was ruled safe and Hoover was charged with his fourth error of the season, a not-so-crucial moment during Monday's Concorde District title game that the Westfield baseball team eventually won, 4-0.
But its significance, if nothing else, was comical. Something had to go wrong at some point for Westfield, right?
Because of Hoover, who threw the school's first-ever perfect game during a 3-0 win over Centreville on Friday, May 14, and Thorpe, Westfield ran its record to 19-1 this season with the Robinson win, capturing its first district title since 2004.
In two Concorde District tournament games, exactly zero runs crossed the plate while Westfield was in the field. And in 20 games this season, Westfield has allowed a total of 36 runs or an average of 1.8 per contest.
"I guess it's just a function of playing very good defense and not letting them have opportunities that they're not earning -- not walking [batters], not making errors and not helping them out," ninth-year coach Chuck Welch said.
<b>WELCH ADMITS</b> that he was unaware of the situation in the dugout last Friday. With Hoover cruising and the game nearing its endpoint, Welch sought out senior Ryan Williams, the team's closer, in the middle of the fifth inning. It was time to get loose.
"He said, 'But I'm not going in right?'" Welch remembered. "I said, 'What, you don't want to go in?'"
So Williams whispered to Welch what was happening. In turn, Welch made sure his team was aware of the situation. The challenge, Welch said, was exhorting his players to increase their focus while not allowing Hoover to know what was going on.
Hoover needed only 63 pitches to complete the perfect game and retire all 21 hitters he faced. He struck out four and threw 55 fastballs, three curveballs and five changeups to improve to 7-0 on the season.
"I wasn't necessarily feeling physically 100 percent," Hoover said. "That day my back was feeling a little bit more tight than it usually does."
Thorpe bumped his record to 8-0 this season by shutting down Robinson on Monday. In six scoreless innings, the junior hurler allowed two hits, struck out 10 and walked none, throwing 50 of his 77 pitches for strikes.
<b>THORPE AND</b> Hoover are intertwined by more than a mishandled putout. Westfield's top two starters, the duo is counted upon to pitch as long as possible before giving way to closer Ryan Williams (William & Mary), who has seven saves.
Hoover, a sophomore, is a lefty that relies on pinpoint control. The right-handed Thorpe, meanwhile, throws sidearm with pitches that dip and dive like an amusement park ride. Neither overpowers hitters but both are capable of causing equal amounts of frustration.
"Danny is much harder to catch because his ball moves down, and with Aaron it's more of a straight fastball," said catcher Hayden Ferington. "Aaron's more of a finesse pitcher. He hits his spots. Danny's kind of a thrower and wherever it goes, it goes."
"Aaron is so fundamentally sound, just hitting his spots where it's called," Thorpe said. "With me, I try to spot the ball, but I know that I can always rely on movement and changing speeds."
Thorpe and Hoover have enabled Williams to become the shut-the-door closing option that most high school teams can only dream about, and they have also enabled Westfield to play classic, fundamental baseball filled with quality pitching and defense.
"Our whole philosophy is that a great, great high school hitter is gonna get out six out of 10 times, so let's give him that chance to get out," Welch said. "It's part of baseball: A guy gets on and nobody's freaking out."
And to prove Welch right, Thorpe, after Hoover's error, needed only two pitches to retire the next batter.