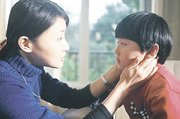 Comedies, documentaries and dramas are just some of the genres of films that will be shown at the ninth annual Northern Virginia International Jewish Film Festival, hosted by the Jewish Community Center of Northern Virginia. The festival, which runs from April 30 to May 14, will screen films at the Cinema Arts Theatre in Fairfax, the Rosslyn Spectrum Theatre in Arlington and the JCC of Greater Washington in Rockville, Md.
The festival features 20 films screened in 65 showings. The films, which hail from the U.S., Canada, Israel and Europe, were selected from over 150 entries. This year's selection features documentaries, comedies, dramas, actions and many more.
In addition to film screenings, the festival will host a number of guests. David Newton, producer of "Beau Jest," will be attending the festival on Thursday, April 30. "Beau Jest" is a romantic comedy based on a Broadway play.
Erik Kesten, the director of "Holy Land Hardball", will be attending screenings of this film at the Arlington Spectrum Theatre on Saturday, May 2. The film follows the formation of the Israeli Baseball League, the first baseball circuit in the Middle East.
Both "Beau Jest" and "Holy Land Hardball" are expected to be big films at the festival this year. Another film that will draw viewers is "The Champagne Spy," based on the true story of Wolfgang Lotz, an Israeli spy who lived a double life.