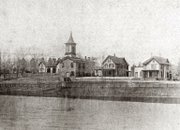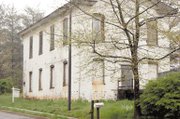 In the years since Robert E. Simon designed Reston, land-use critics have applauded the Northern Virginia community as a good example of suburban planning. Yet few Reston residents realize that 70 years before Simon founded Reston, another planned community, Wiehle Town, occupied the same land. Even fewer people understand that one of the reasons Reston remains a homeowners association instead of a municipality is because of Wiehle, a town that has disappeared.
DR. C. A. MAX WIEHLE was a German immigrant who moved to the United States with his family when he was 2. He attended the University of Pennsylvania and later became a successful physician in Philadelphia. Wiehle decided to retire at an early age. Subsequently, he moved to the Washington, D.C. area, and, in 1886, bought 3,228 acres of timbered land in Fairfax County. There, Wiehle envisioned setting up a new town.
During the 1890s, Americans enjoyed a rising prosperity. This was probably an incentive for Wiehle to create a new town; it would have assured him that it would become successful. To help him, Wiehle engaged Joseph Berry, a German surveyor, to design the town's layout. Berry finished the plan in 1892. Wiehle envisioned a community of 800 residences that would accommodate a population of 4,000 people of differing economic backgrounds. He imagined entrepreneurs opening businesses and factories in which residents would work, thus, allowing the town of Wiehle to be completely independent. Wiehle also expected to use locally cut lumber and other materials to construct the town.
One of the first significant structures built in the town was a two-story brick building. Wiehle used the first floor as a town hall, while religious services were held in the second floor until 1907, when the Wiehle Methodist church opened its doors. However, after the Bowman family bought the town's land in 1927, the two-story building would have another use. Once Prohibition ended, this sometime church became the Bowman distillery. To make this drastic change official, workers removed the steeple. The distillery produced whiskey called "Virginia Gentlemen," which is still in production today, but in another location. Ironically, Wiehle was a strong opponent of alcoholic beverages and, while he was alive, he did not allow alcohol in the town.
To attract potential homebuyers, Wiehle built the Aesculapian Hotel. The luxurious facility was very popular and a vacation spot for visitors from Washington D.C., which was only a short train ride away. Visitors could play tennis, swim, fish in the nearby lakes and enjoy food prepared by a renowned chef, who had worked previously for J.P. Morgan. It would have been considered a five-star hotel at the time. The hotel was so successful that the Bowmans kept it running until it was torn down in 1956, removing an essential landmark of the town.
Another remaining landmark of the town is Wiehle's home, which he built adjacent to the Aesculapian Hotel. The extravagant residence consists of 25 rooms, high ceilings and walls that were 24 inches thick. Architect Erkins Sunderland, a resident of Washington, D.C. designed the mansion. Construction was completed in 1899. Sadly, Wiehle died soon after of pneumonia and did not get to fully enjoy his mansion. The Bowman family renamed it Sunset Hills, but the building, which is on Old Reston Avenue, has not been used as a residence since 1979.
WIEHLE TOWN, which was a great attraction to many visitors, was unable to acquire many residents. From 1895 to 1898, newcomers built only five houses out of 800 planned. Wiehle was a town on the rise and the reason for its failure is obscure. However, one possible answer is that an economic depression caused the town to founder. Wiehle Town's demise began during the economic panic of 1893. Due to the economic dip most Americans were not apt to purchase new homes, especially in a town like Wiehle. Wiehle did not have a stable enough population to sustain the town's industries. The town never reached its full potential.
After six decades, Simon successfully revived Wiehle's vision. However, Wiehle Town's charter created a problem. Since the charter remained in force after the town's disappearance, its continued existence proved one of the reasons Reston could not incorporate the same land. In the 1970s, Reston residents attempted to revive the Wiehle charter and adopt it for Reston. The Fairfax County Board of Supervisors found that this would cause too much trouble, and Reston had to remain a homeowners association. Although the state rescinded the charter in 1990, Reston's status has stayed the same.
All that remains of Wiehle are the town hall/distillery, the Wiehle mansion and the largest of the hand-dug lakes. The former town hall, at 1875 Old Reston Ave., is for sale. According to the listing agent, the seller hopes that the building keeps its historical significance. There is a good chance that once sold, the property will be converted into condos. If this were to happen, a crucial part of Reston history might disappear.
<b>By Nora Vivanco</b>
Rising Senior, Thomas Jefferson High School
<i> Nora Vivanco is a Reston resident. She wrote this essay for her A.P. U.S. history class at Thomas Jefferson High School.</i>