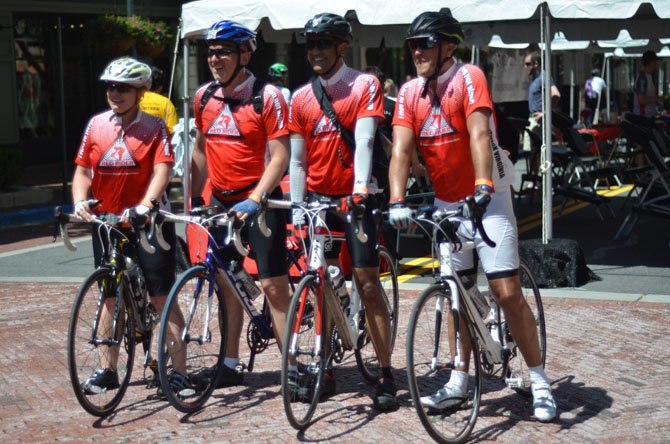 Thousands of persons went to Reston Town Center on Sunday, June 1, to participate in the American Diabetes Association's Tour de Cure Race. The event began at 6:30 a.m., and continued throughout the day. Over 1,100 people registered to participate in the event. "We keep improving on the event every year based on feedback from participants," said volunteer event chairperson Danae Goldberg.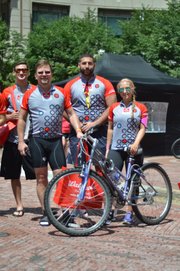 Goldberg helped coordinate over 150 volunteers who offered their assistance for the event. "This year has been one of our most robust events," said Goldberg. The Tour de Cure is not a race, but a bike ride that encourages people of all experience levels to participate in an event to raise the level of awareness about diabetes. Participants can form teams and raise money to benefit the millions of children and adults with diabetes. Similar events take place each spring in over 80 cities across the country. A Tour de Cure Race in Washington, D.C. is scheduled this Sept. 27.
THIS YEAR the fundraising goal was set at $1,000,000. Cyclists had a fundraising minimum of $250 which they turned in prior to the start of the race. The event had four different bike routes which bikers could choose from. These included the Combined 14/20 Mile Fun Ride and Fitness Ride designed for beginner bikers, the 36 Mile Road Challenge Ride which went out to Ashburn, the 68 Mile Blue Ridge Metric Century Ride, and the Leidos Health 108 Mile Century Ride which went out to Purcellville. Each route was marked with directional signs, bike marshals, and support and gear or SAG vehicles.
"We had eight riders in this event today," said Bob Simala, who rode with a team of colleagues from Lilly USA, LLC. Lilly USA, LLC develops products and devices for diabetes care in the United States. "This is a great organized event, with a wonderful course using the W&OD trail," said Simala. Simala and his colleagues intend to participate in the event again next year. This year 106 teams were registered to participate in the event.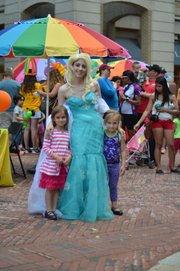 Some top corporate teams in this year's event included Leidos, KP Thrive, Lockheed Martin & Friends, Team Northstrat, and Serco. Also participating was a bike team from the World Bank. "This is my first time in this race," said Alec Albertson. "The camaraderie and opportunity to raise funds for a worthy cause feels good." Mary Merritt, Executive Director of the American Diabetes Association (ADA) for the National Capital Area was also at the event. "Diabetes is one of the fastest growing diseases in America," said Merritt. "We want to focus on prevention and helping people manage the disease through our research, advocacy and education."
Information booths on diabetes and health awareness were set up on Market Street near the Town Center pavilion. There was also an active kids zone for participants who brought children to the event. "It has been a great event," said Lynn Douglas, a software engineer at Northstrat Incorporated who cheered on coworkers participating in the bike ride.
IN 2011 more than $145 million, or 73 percent of ADA's expenses was invested directly into mission activities including research, information and advocacy. Since its inception, the Association has invested more than $600 million in research and provided funding for more than 4,000 research projects. For more information on the ADA, or other Tour De Cure events, visit www.diabetes.org.