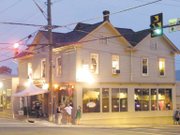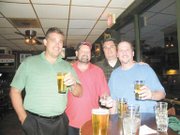 Since 1997, Jimmy's Old Town Tavern has been gathering place for the Herndon community.
"It's pretty much your hometown bar. Everybody comes here, makes a connection with one another here," said Tegee Rogers, who has worked as a host and bartender at Jimmy's for 10 years. "We have a lot of regulars."
With a smile he said, "Most people that come in never leave again."
Jimmy's is a bar, restaurant and entertainment all in one, in addition to giving significant amounts to charities and staying active in the Herndon community. Jimmy's has hosted fund raisers to support the troops and St. Jude's Hospital and to benefit the families of fallen police officers and firefighters as well as raised money for things as close to home as the Council for the Arts of Herndon — all through events like the Poker Run and Most Consecutive Days Spent Behind a Bar competition.
"We're pretty laid back here," said Rogers.
Bill Hart, a Jimmy's regular who has lived in Herndon for 10 years and been coming to Jimmy's twice a week or so — sometimes more in golf season — for 11, agreed.
"In the D.C. area there's a lot of money and pomp and circumstance, places seem somewhat sterile, if that's the term," he said. "Here you can let your hair down."
Hart, who lived previously in Clifton and started coming to Jimmy's when he became involved in the Herndon golf scene, has come to love the Jimmy's community. He called the atmosphere cozy, with a real hometown feel.
"You know everybody, everybody knows you. I've been here for many years and I've got many friends here that I know," he said. "Like in the old days it's kind of a tavern, where the community comes up and hangs out, talks."
In addition to being a place where people come together to talk over drinks, Jimmy's has a weekly schedule of events that keep people coming back every night of the week. Sunday features free poker tournaments, Tuesdays a trivia game called Jotteopardy, Wednesdays an "open mic" night. A complete schedule is available at www.jimmystavern.com.
"Thursday night is our 80s night, we started that not too long ago," said Rogers. Most nights of the week there is a DJ and dancing on Jimmy's dance floor.
When asked which night was the most popular at Jimmy's, Rogers shook his head. "It kind of varies, actually," he said. "You never know what's going to happen. Never know what happens. Tuesday nights are very popular because everyone loves trivia, so everybody comes in for trivia. And Friday and Saturday night as well."
A recent Saturday featured what Rogers called a Midnight Mystery Contest, a true indicator of Jimmy's laid-back atmosphere.
"Tonight I'm doing a Frozen T-Shirt Contest," Rogers said. "What it is, we take a bunch of T-shirts, we freeze them, and then you have to unravel them and put them on. And the first person to put it on wins. And I give them a $25 gift certificate."
Hart enjoys going out to Jimmy's for the special events, but his favorite part remains the socializing.
"You come up here, you know everybody, you hear what events are going on, what's happening in the community," he said. "All Herndon people seem to show up here, you know. The mayor's in. You just meet everybody.
But whether you're old or new to Jimmy's, expect to feel comfortable there.
"You come in, first time here, I'm not going to treat you any different than this guy here who's been coming in for year, said Rogers. Everybody gets treated the same. We treat everybody the same, we treat everybody like a regular. That's our slogan."
Jimmy's Old Town Tavern is located on the corner of Elden and Spring Streets in Old Town Herndon at 697 Spring St. They are open daily from 11 a.m. to 2 a.m., with only customers over 21, with ID, admitted after 9 p.m.