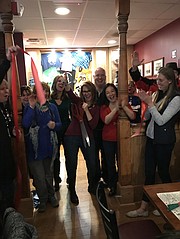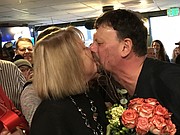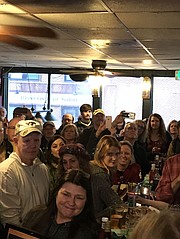 After five years of hard work, hopes, and dreams, Jimmy's Old Town Tavern located in Herndon, on the corner of Elden and Spring Streets, held grand opening ceremonies for their Buffalo Wing and Beer Garden, a large expansion project of the current restaurant/town gathering place.
Asked what the hardest part of the build had been, Cirrito confessed, "Worrying about the money...We are very excited but very nervous at the same time; similar to when we opened in 1997." What kept him going though, Cirrito professed, are the people in his life.
On Sunday, Feb. 4, Herndon Mayor Lisa C. Merkel stood at one official ribbon and Mike O'Meara, podcast personality and the host of The Mike O'Meara Show at the second ribbon. With a crowd of more than 200 patrons and special guests present including, his longtime friend and one of co-owners of the building, Richard Curtis and Robb Spewak and Oscar Santana of the Mike O'Mara Show, Merkel and O'Meara cut the ribbons, celebrating the opening of Jimmy's "Buffalo Wing and Beer Garden."
Jimmy's Tavern is a longtime anchor in the downtown district. Nearly every night of the week, the establishment draws a multitude of longtime friends and new patrons.
During his remarks before the official ribbon cuttings, Jimmy Cirrito told the standing-room-only crowd about his dream. How in 1996 on Nov. 11, Veterans Day, the initial build began. He told how six months later, on Memorial Day 1997, Jimmy's Old Town Tavern opened. Sixteen years went quickly by and in 2013 on Super Bowl Sunday; he announced plans for the Buffalo Wing and Beer Garden. "And now, in 2018, on Super Bowl Sunday once again, here we are...We are opening the 'Buffalo Wing and Beer Garden' during The Super Bowl LII halftime show… And it's because of very important people here tonight. Each of you."
Word of the grand opening had spread quickly through the town. Congratulations poured in even before the ceremonial ribbon cuttings.
"Dream it, Build it, Enjoy it" Vicki Wilhelm had engraved on her newly purchased commemorative brick, her gift to Cirrito. It was installed into the long path of commemorative bricks leading to the Beer Garden. The bricks were and will remain a funding raising project for individuals and businesses to help support the build.
On Facebook, Linda Downer of Herndon wrote: "Congratulations, Jimmy! Richard and I have looked forward to this for years."
Merle Rogers wrote: "Jimmy, I am so proud of you! Perseverance, hard work, and a whole lot of faith finally paying off for you! Love you, brother!"
Merkel shared her words with the gathered crowd before she and O'Meara cut the ribbons. Merkel said, "Jimmy took a chance on Herndon in 1997 and was a catalyst for all the great things to come in the downtown. He's the King of Building Community and the town couldn't be more thrilled for the Buffalo Wing and Beer Garden," she said.
O'Meara said, "I'm thrilled to be back in Northern Virginia to celebrate this wonderful day for my old friend and best restaurateur I know. Jimmy Cirrito is a true original, and I know JOTT will be an institution in Herndon and the D.C. area for many years to come. I'm very proud of him."
Cirrito credited his wife, daughter and all those around him. "I have been very blessed to have the support of my wife Maureen, our daughter, Kelsey, incredible staff, and countless friends and patrons." Cirrito recalled that in 1996, Maureen had said to him, "Do it while you are young or you will never do it."
"And here we are, doing it again, together," Cirrito said. "Only bigger and better. And we're not done yet." A brewery waits.